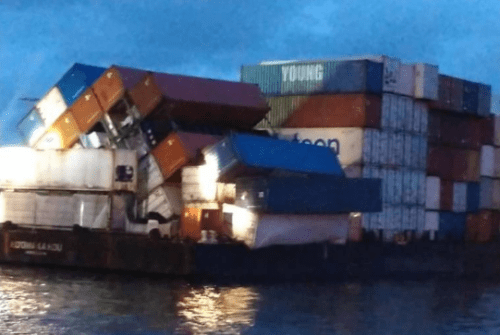 A Hawaiian interisland barge lost more than 20 containers overboard off the coast of Hilo on Monday morning and several containers remain missing.
The U.S. Coast Guard said it responded to a report of lost cargo from the barge Ho Omaka Hou as the tug Hoku Loa was transiting with the barge to Hilo Harbor.
The tug operator reported that at 4:30 a.m. Monday, several 40-foot shipping containers fell overboard. That number of missing containers currently stands at 21, according to the Coast Guard.
Nine of the containers have been located while 12 remain missing, the Coast Guard reported.
The crew of the tug and barge Ho Omaka Hou noticed that the containers were missing after mooring in Hilo. Containers are reportedly adrift approximately 8 miles north of Hilo, and one had been spotted adrift in Hilo Harbor.
The accident is currently under investigation.
The Ho Omaka Hou barge is owned and operated by Hawaii-based Young Brothers, a leading interisland freight company and independent subsidiary of Foss Maritime Company, which is wholly-owned by Saltchuk Resources.
The Coast Guard said working with Young Brothers to locate and recover the containers and assess the situation further, including determining the contents of the containers.
Weather at the time of the incident was east winds at 12 mph, waves to 4 feet with a south swell at 3 feet, and isolated showers.