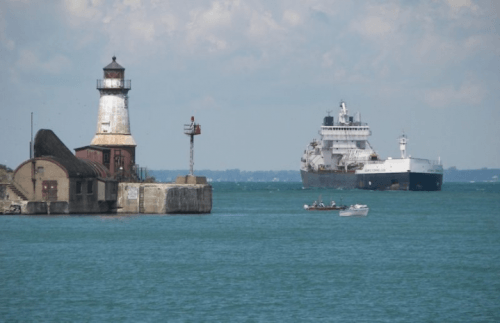 The owner of American Steamship Company has agreed to sell the company to Rand Logistics in a stock purchase agreement valued at $260 million.
American Steamship Company operates the largest fleet of U.S.-flagged vessels on the Great Lakes, providing waterborne transportation of dry bulk commodities such as iron ore, coal, and limestone. Since 1973, it has been under the ownership of Chicago-based railcar lessor GATX Corporation.
"As a leading operator of self-unloading vessels on the Great Lakes, ASC has been a strong contributor for GATX since 1973," said Brian A. Kenney, president and chief executive officer of GATX.  "This sale allows GATX to focus on our core franchises in global railcar and aircraft spare engine leasing."
GATX said it expects the net sales proceeds to reduce its new debt issuance in 2020.
ASC was founded in Buffalo, New York in 1907. Its fleet currently consists of twelve self-unloading vessels ranging from 635-feet to 1,000-feet.
ASC reported segment profit of $46.1 million for 2019 (including a one-time gain of $10.5 million), and its assets comprised 3.5% of GATX's total assets on Dec. 31, 2019.
Rand Logistics operates a fleet of eleven U.S. and Canadian-flagged self-unloading bulk carriers, including three tug/barge units and three conventional bulk carriers.
The deal is still subject to working capital and other closing adjustments, as well as customary closing conditions and regulatory approvals.