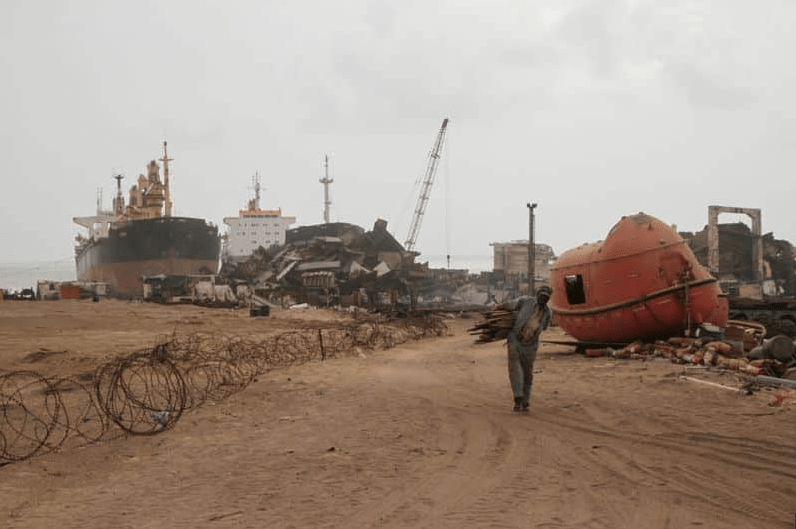 Scrapping of the Floating Storage and Offloading (FSO) tanker J. NAT in Gadani, Pakistan, has been suspended by local authorities following intoxication and burning of workers, NGO Shipbreaking has said. 
The tanker hit the shipbreaking shores of Gadani recently, after going several months off the radar. The vessel was in the center of media attention for over a year amid concerns over the impact of its export from Indonesia for scrapping in South Asia due to the high level of toxic substances in the tanker's structures.
In April, the NGO urged Bangladesh, India and Pakistan to halt the import of the 'highly toxic offshore unit', which they said had illegally departed from Indonesia despite local activists' warnings about its toxicity.
Following the NGO's actions, the government of Bangladesh directed all departments concerned not to allow the ship to enter Bangladeshi territory. Similarly, Indian authorities warned Alang shipbreaking yards not to accept the tanker for scrapping. Following the bans, the ship headed towards Gadani, Pakistan.
The ship has since changed its name on several occasions, which the NGO assigned to an attempt to conceal the ship's identity.
Shortly after the scrapping work was initiated, Pakistani workers who were removing mercury-contaminated oil sludge from the ship sustained severe burning, rushes on their hands and face, and breathing difficulties, the NGO Shipbreaking platform said citing local media. What is more, the ship's steel structures are believed to be contaminated by mercury which could release toxic vapours when heated with torch blowers.
Following the incident, local authorities have suspended the shipbreaking activities and an investigation into the case is underway.
"This case is a shocking example of how companies make profits on the backs of vulnerable workers and coastal environments. It is an environmental crime to dodge international laws that ban the trade of hazardous wastes, and the shipping industry has a duty of care to ensure human rights due diligence when selling their obsolete assets," says Ingvild Jenssen, Executive Director and Founder of the NGO Shipbreaking Platform.
Pakistan and Indonesia are both signatories to the Basel Convention on the Control of Transboundary Movements of Hazardous Waste and their Disposal. Under the convention, trade in mercury and several other hazardous wastes is strictly controlled.
The import of the vessel requires that there is prior informed consent (PIC) between Indonesian and Pakistani authorities and that the declarations of hazardous materials left on board must reflect actual conditions. Moreover, the convention requires that no export be made if there is reason to believe that the recycling or waste management facilities employed for the materials will not constitute environmentally sound management.