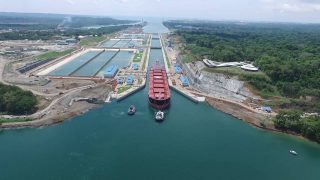 Due to scheduled dry chamber seal repairs at Panama Canal's locks, the west lane of Miraflores Locks and the east lane of Gatun Locks would be closed until Friday, the Panama Canal Authority said.
The operations at the west lane of Miraflores Locks were stopped at 9 pm local time on Monday, and the locks scheduled to be out of service until 9 pm on Friday, due to repairs on Miter gates 106-107, 114-115, 118-199 and 122-123.
Due to scheduled repairs on the Miter Gates 33 and 34, the authority said that the east lane of Gatun Locks will be out of service beginning at 9 pm on Tuesday, until 9 am on Friday.
Panama Canal Authority added that, as a result, and in accordance with the rules governing the Transit Reservation System, Condition 2 for the Panamax locks will be in effect from August 23 until August 26.
The booking slot available through the auction process, as well as slots available for regular vessels less than 300 feet in LOA, and the slots for Neopanamax vessels, will continue to be offered during this period, the authority said.