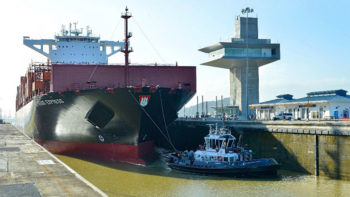 The Panama Canal on Tuesday welcomed the largest capacity vessel to-date to transit the expanded locks – the 10,589 TEU neopanamax containership Valparaiso Express.
The vessel began its transit at the Pacific-facing Cocoli Locks Tuesday morning after calls in Chile, Peru, Ecuador and Colombia. After completing its transit through the Atlantic-facing Agua Clara Locks, the ship will stop at Manzanillo International Terminal in Panama before ontinueing its route to terminals in the Dominican Republic, United Kingdom, Germany, Belgium, France and the Netherlands.
The containership measures 333 meters in length and 48 meters in width, and is the first of five new vessels in Hapag Lloyd's new 10,500 TEU class which are specifically being built to take advantage of the additional capacity of the expanded Panama Canal. 
The Valparaíso Express operates as part of Hapag-Lloyd's Europe – South America West Coast service, which covers a nine-week rotation, merging two previous services between Northern Europe and the West Coast of South America. When the final four ships are completed in April 2017, all five will be able to transit the Expanded Canal.
The Panama Canal Authority hailed the passage as ushering in a new era of mega-ships that are now able to transit the Expanded Canal since it's inauguration in June.
The new locks, which are 70 feet wider and 18 feet deeper than those in the original Canal, are able to accommodate Neopanamax vessels carrying up to 13,000 to 14,000 TEUS.
Since opening June 26, the new locks have recorded more than 500 ship transits. 
Also for its transit, the Valparaiso Express was awarded with the new Green Connection Award, an initiative created to recognize Canal customers who demonstrate excellent environmental stewardship, and to encourage others to implement technologies and meet standards that help reduce greenhouse gas emissions.
The Valparaiso Express was constructed with an environmentally friendly landside shore connection, which allows the auxiliary diesels on board to be switched off while in port. The vessel also features a fuel-efficient 46,530-horsepower main engine with an emissions-reducing valve control, and ballast water treatment units on board in accordance with the new International Ballast Water Management Convention.    
Copyright Ships & Ports Ltd. Permission to use quotations from this article is granted subject to appropriate credit given to www.shipsandports.com.ng as the source.