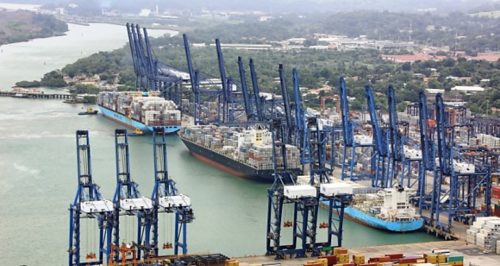 Cargo volume in Panamanian ports hit a record 7.01 million TEU last year, but only showed a slight growth of 1.7% compared to 6.89 million TEU the year before.
While a record volume growth was much slower than the 10.1% increase in container throughput at Panama ports in 2017. Transhipment boxes accounted for the vast majority of volumes and increased to 6.09 million TEU.
Topping the honour list was Manzanillo International Terminal (MIT-Panama) that posted cargo volume growth of 18.5% marking its return to the 2 million TEU milestone with 2.23 million TEU. 
On the Atlantic coast, next to MIT, Evergreen's Colon Container Terminal (CCT) registered a double digit increase of 16.4% to 816,373 TEU a landmark for the terminal. Cristobal, located at the Atlantic entrance of the Panama Canal and administrated by Hutchison' Panama Ports, saw a decrease of 2.2% to 1.28 million TEU, down from 1.31 million TEU in 2017. Cristobal had benefitted in 2016 and 2017 from a relocation of cargo after hurricane Mathew damaged Freeport in the Caribbean.
The expansion of PSA-Panama that raised its capacity to 2 million TEU and the ability to receive post-panamax vessels, brought an astonishing growth of 646.5% to 608,906 TEU, up from 81,568 TEU in 2017. The new terminal that was inaugurated in April 2018 is now receiving MSC services, which left Balboa and other shipping lines, which has reduced cargo volumes at Balboa, administrated by Panama Ports, by 29.3% to 2.05 million TEU.
A reshuffle of shipping lines services during 2018 has moved cargo transhipped in Panama to Caribbean ports and Mexico.
Investments in Panama port sector has largely surpassed the $3 billion bringing total capacity to 1 million TEU. Another $1.1 billion, 2.5 million TEU, new terminal on the Atlantic coast is in construction by Chinese consortium Landbridge Group and partners expected to be operational in 2020.
Additional capacity will certainly pose a challenge to existing operators in a market already in a state of oversupply.  
Copyright Ships & Ports Ltd. Permission to use quotations from this article is granted subject to appropriate credit given to www.shipsandports.com.ng as the source.