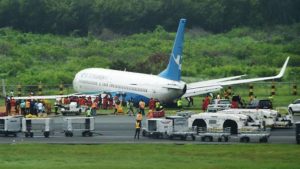 A passenger plane operated by China's Xiamen Air, veered off a rain-soaked runway after landing at Manila's main airport.
The incident disrupted flight schedules on Friday due to a temporary runway closure, officials said.
All 157 passengers and eight crew aboard the Boeing 737-800 were unharmed, according to the airline and airport authorities in the Philippines' capital. An investigation was underway to determine what led to the accident late on Thursday.
The plane "misapproached" on its first attempt to land and lost contact with the control tower on the second attempt when it skidded off the runway after touching down, said General Manager at Ninoy Aquino International Airport, Ed Monreal.
"Our priority now is to reopen the airport runway immediately but we are not rushing because we value the safety and security of all the people," he told a news conference.
Airport officials said they were looking at several factors, including the bad weather at the time of the incident and communications between the pilot and control tower.
Monreal said they were not able to access the content of the flight recorder and it would be sent to Singapore for analysis.
Xiamen Air said in a short statement that no one had been injured in the incident.
The Civil Aviation Administration of China said it had set up an investigation group and sent a team to Manila to coordinate with Philippine authorities. The regulator said it also sent a team to Xiamen Air.
Flights from the Middle East and the United States were diverted to the international airport at Clark, north of Manila, and to the central island of Cebu.
The disruption caused by the accident led to chaotic scenes at Ninoy Aquino airport on Friday, as travelers waited in long queues outside the terminals and at check-in desks.
Airport authorities extended the closure of one of the runways to 4:00 p.m., saying they needed more time to move the Xiamen Air plane.
Agency Report