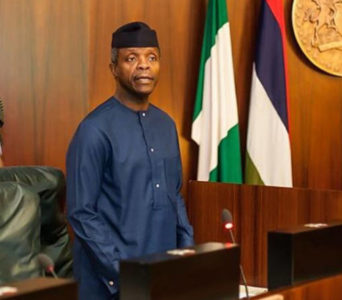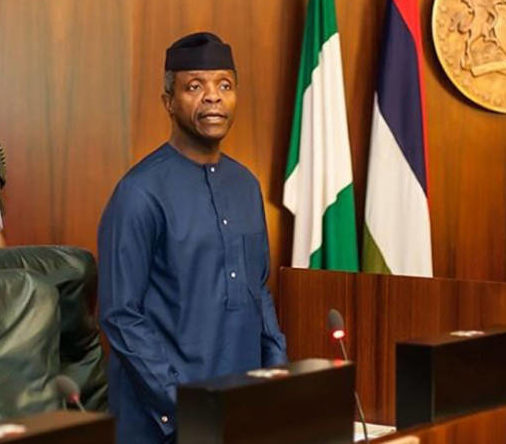 Acting President Yemi Osinbajo says Nigeria's economy will not grow by fasting and prayer but by the collective effort of all citizens.
Speaking with heads of ministries, departments and agencies at the state house on Wednesday, Osinbajo, who is a pastor, urged government officials to be the drivers of transparency and efficiency in doing business in the country.
He spoke on the background of the three executive orders he signed last Thursday.
"Every time we postpone processes of businesses, we delay the prosperity of many. If you help others move forward you will find help. Don't see this as a government policy but a personal policy," he implored them.
He also disclosed that there would be an extensive communication network between the government and the MDAs to ensure that the orders were fully complied with.
"We are going to need extensive customer care, call centres, feedback mechanism, a lot of work is already going on between Servicom and I suspect that each ministry, department and agency will have to take responsibility," he said.
"No matter how long we pray and fast, our nation won't grow until some of us decide to do the hard work that will make our nation work."
He urged civil servants to be diligent in carrying out their duties, adding that "every time we say come back next week for something we could do today; we postpone the prosperity of that person and the nation". 
On why rice produced in Nigeria is more expensive than imported ones, the Acting President said, "Those who are exporting rice to us are doing something smart. From Thailand to India and Vietnam. Those countries are subsidising their farmers so that their rice can be cheap and when they export to Nigeria, they can be at an advantage over Nigeria rice.
"Everyone of the countries that imports rice to us subsidises their farmers.
"Why do they subsidise their farmers? So that they can create jobs for themselves. So when we import rice or buy imported rice, we are only creating jobs for farmers in Thailand, Vietnam, China and others.
"When we insist to buy the local rice, we are creating jobs for the farmers in Kebbi, Jigawa, Kano, Ebonyi States and other places where rice is produced," he said.
He assured that the government will continue to assist farmers by subsidising rice production to make it cheap and more competitive.
"It is our business as government to introduce the kind of help and assistant by subsidising production so that our rice can be competitive but it starts off by being expensive. I can assure you that in the coming months our rice will compete with rice anywhere else in the world," he said.     
Copyright Ships & Ports Ltd. Permission to use quotations from this article is granted subject to appropriate credit given to www.shipsandports.com.ng as the source.