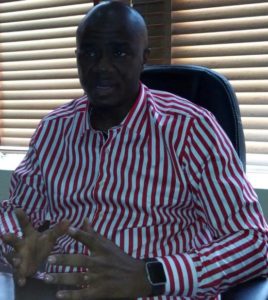 Michael Ubogu is the Managing Director, Micura Services Limited. Last month, the company which majors in stevedores and outsourcing operations, marked its 10th anniversary. In this interview with Shulammite Foyeku, Ubogu shares the story how the company has grown to become the leading stevedoring services firm in Nigeria. He also speaks on sundry industry issues including the contentious payment of charges in foreign currency by terminal operators to Nigerian Ports Authority.  
Your company marked its 10 years anniversary last month. Could you give us an insight into how you started this business and the challenges you had to contend with during this period?
It all started in 2007 from paid employment – just like every other young man has a yearning for something to do and a yearning to achieve. I have been around the maritime industry for a very long time so my choice to stay in the sector was something I know better. Basically in the first five years, we were predominantly in the maritime sector but when the economy was beginning to give some sign of recession because recession did not start now, we also inculcated into our service outsourcing. So basically we are not only into stevedores but outsourcing and equipment leasing.
In the beginning we had a whole lot of challenges which have to do with obtaining permit and license from government regulatory agencies like NIMASA. Most companies in Nigeria today register withN1million shares capital but in preparation to get your stevedoring license, you need to increase your share capital from N1million to N5million and at that time in 2007, we also needed to have N5million bank guarantee that is cash bound. At some point, I had to sell off some things to raise the N5million bond guarantee. You also need to have an ambulance, buses and others. It was a big challenge for us starting but we were able to weather through the challenges because if you are building a brand, then you think less about the cost implication because a brand itself is costly.
A couple of days ago, I said to myself, I am not the most successful businessman but one thing I know for sure is that I have been able to make a success out of my business. Looking at where we started from 10 years ago, many companies have gone down, some have gone higher than what we have achieved but without being boastful, the 10 years have been eventful.
Human wants are insatiable but looking at what we started with in 2007 and the level of what we are doing now, I think I am fulfilled. The fulfillment is not about how much money you have in the bank but as result of the passion you have for what you are doing. So if I am asked over and over again if my aspirations have been met throughout this period, my answer will be yes. They have been met. Of course, we are not where we are going but looking back from where we started from, I thank God.
Last year, the ports witnessed a significant drop in the volume of import into the country. How did this affect your business?
Stevedoring is all about giving service to importers. We do wet cargo, container stuffing and unstuffing as well as examination and break bulk. Last year was very challenging because most of the break bulk vessels were not coming and our major stay from 2007 has been fertilizers but last year, the volume was very low. But from November and December last year, there was an improvement in the import of wet cargoes and the break bulk due to some measure the government put in place and I believe by the second quarter of this year, the volume will increase and the port will be busy again.
What are these measures? Could you be more specific?
In trying to diversify the economy, government is also trying to receive foreign exchange from non-oil products and that is why we see the concentration in agriculture. The farmers will tell you that the volume of what they did last year in terms of agriculture is unquantifiable in the history of this country in the last 60 years. The government has also seen that for you to encourage high yields, fertilizer is a factor.
Recently, the government signed a contract with Morroco government to supply gas and fertilizers and as I speak to you now, we are doing between 60,000 to 70,000 metric tonnes of fertilizer every month since November. So that means that when the port is busy, the farmers will also be busy. Now the government has also banned importation of vehicles through the land borders; what that tells you is that import of vehicle will only be from the seaport and that will give our members more job opportunities. These are some of the policies the government have taken into consideration and working with the stakeholders to ensure that all participants in the industry including the workers get the dividend of democracy.
Are you satisfied with the present administration?
I know the President is a person who is dedicated to the course he believes in but it is unfortunate for him that he came at a time when the economy was already wobbling. If you ask me if I am satisfied with the policies that the government has put in place, I will say yes although last year was a little bit challenging all over the world especially for countries like Nigeria that are dependent on oil. Corruption has been a major impact of what has eaten deep into the economy but the government is putting in effort to fight it. I think we will be able to judge this administration well in 2019.
Which other area would you want the government to give more attention?
One major area I think the government should put consideration into is power generation and distribution as well as security. If you look at the level of kidnapping cases, it is on the rise and that can discourage potential investors because they will be afraid of coming to Nigeria to invest. So I feel if the government can look into that, it will reduce the burden on manufacturers and business owners.
Different state governments are pushing for development of deep seaports in their territories. Where do you stand on this?
If you look at the cost of establishing a deep seaport, it is very expensive. But if you look at the cost of developing existing ones, I think it is cheaper. If I am in government, I would have advised the government to give some concession in terms of tax credit especially to people who through the Bureau of Public Enterprise (BPE) acquired some of the ports for 15 to 20 years; give them new terms and reduce the dollarization of payment to NPA. That way they will be able to invest more. The dollarization of payment to NPA is a major challenge the terminal operators are facing. If government asks the concessionaires do the dredging themselves and give them tax credit, it will encourage them to do those dredging themselves because it is far cheaper to upgrade the ones we have now than to build new ones. A lot of billions of dollars will be required to do that but it is cheaper and more realistic to upgrade the existing ones rather than build new ones. I am not a pessimist but if you look at some of these new ports they want to establish, some of them have signed contracts more than a year ago, while for some, the counterpart funding from the Public Private Partnership (PPP) arrangement have not even brought their own money and the government cannot fund it because the government does not have the money. If you want to develop a deep seaport, you will be looking at $20 billion dollars and that cannot be concluded even in five years but with the existing ports we have, it cannot take more than six month to dredge to create more draught and it is going to be a continuous thing. What is lacking is because it is not continuous, if it is a continuous exercise, we won't be having this kind of problem of shallow waters today. The concession agreement do not include the dredging of the channels, it only includes the land areas so if the government can tell the terminal operators that a particular nautical mile is your responsibility to drill, and ensure that large vessels that have about 20 metres drafts can berth there, it won't even get up to six months before they will do it because they will do the funding. It is just for the government to say for every $1million dollars you spend, we are going to give you a tax credit at the end of the day. If the government was able to concession the port today to private owners, the government can also concession the dredging of the channels. I know how long NPA gave out the contract to dredge the Calabar port but here we are after how many years.
How would you describe 10 years of port concession?
The best thing that has ever happened to the port environment today was the concession because you cannot compare how the port was now and in the days of NPA. The kind of money that the terminal operators have invested in the port today in terms of facilities cannot be compared to the pre-concession era. A lot has improved in terms of infrastructures employment, and turnaround time of vessels. If you seek the opinion of people whether to transfer the terminals back to NPA, 99 per cent will say no. With that it is very clear that government has no business being in business, theirs is to regulate and allow the private people who have the initiative and the experience to deal with the business. So the only way to encourage the terminal operators is to give them tax credit.
What are your expectations from the candidate that will emerge President of the Maritime Workers Union (MWUN) in its forthcoming election?
There have been a lot of gains in the industry in the last 16 years because of the leadership style of the current President-General of MWUN. We have seen maturity in the ways issues are addressed. They have been able to handle the interest of not only the workers but the terminal operators and the era of hooliganism in the port has reduced. So when a new President-General is elected on March 17, he should build on the existing leadership style to be able to deliver on the goals of not just the workers but also the interest of all stakeholders including terminal operators, shipping companies and stevedoring companies among others so that the harmony that we have enjoyed in the port in the last 16 years will be sustained.
Copyright Ships & Ports Ltd. Permission to use quotations from this article is granted subject to appropriate credit given to www.shipsandports.com.ng as the source.