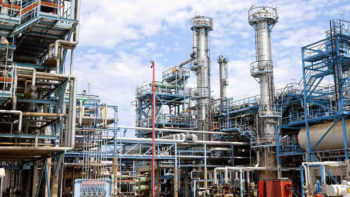 The Petroleum and Natural Gas Senior Staff of Nigeria (PENGASSAN), Nigeria National Petroleum Corporation (NNPC) group, has warned against outright sale of the energy sector to private investors at this time of the country's economic downturn, saying it would not serve any good purpose.
The group, instead advocated for urgent diversification of the economy outside oil and gas for quick recovery.
The group equally called for the passage of the aspect of the Petroleum Industry Bill (PIB) that addresses the issues and grievances of oil and gas producing communities to douse the lingering agitations and threats in the Niger Delta region.
Its General Executive Committee (GEC) Chairman, Sale Abdullahi gave the warning during a one-day visit/ tour of Port Harcourt Refinery ahead of PENGASSAN's national congress and election of new executives in Abuja.
Abdullahi said it became necessary to give the warning following the plan by the Federal Government to sell the country's energy sector to private investors.
He urged the government to apply caution in the move to avoid the repeat of last experiences.
According to him, what the sector needs now is responsible partners that could make the facilities operate to maximum capacity and not those that would want to buy off the public assets for their personal gain at the detriment of the general public.
Abdullahi said: "We are not against privatisation, concessioning of the refineries, but no responsible nation will like to toy with the issue of energy at the moment especially considering the present condition of the economy. We as labour union are against 100 per cent concessioning; we want to maintain a level of security. This is because energy is security and just like the country cannot give out security 100 per cent to the private sector to manage, we should equally not do that with the case of energy; that is the reason we are saying that when the government is bringing in investors, let them bring in those that will add values to the refineries.
"We talked about the maintenance that we have not been able to do for so many years, it is certainly because of finance; so we welcome those that will come with finance to help us in the area of maintenance, we partner together, make profits together but with the guarantee that the energy security of the nation is with the government, that is the kind of concessioning we support.
"After all, the PIB that is before the National Assembly has a portion that reliefs 20 per cent government equity of the oil and gas sector being in the hands of private investors, meaning that when the bill is passed, 20 per cent will go off but what we are saying is that, it does not make any sense at the moment to sell the entire energy facility of the country outright to public investors; if that must be done then, it should be done bit by bit, to give room for monitoring and evaluation on its progress on the economy. This is necessary because of past experience."