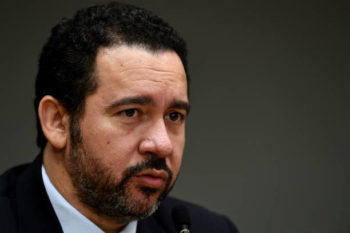 Brazilian state-controlled oil company Petróleo Brasileiro SA owes the government billions of dollars tied to offshore exploration rights but is unlikely to pay this year, a cabinet minister said.
The government's 2018 budget does not include any revenue from the so-called "transfer of rights" area that has sparked a dispute with the company also known as Petrobras, Planning Minister, Dyogo Oliveira said in an interview on Thursday.
In 2010, Brazil exchanged offshore exploration rights for equity in Petrobras. The government argues it is now owed money due to a reassessment of the value of the assets, but Petrobras says it is owed money by the government from the reassessment.
Oliveira's comments suggested the dispute could drag on despite the creation of a government commission comprised of representatives from several ministries this week to accelerate negotiations. There is a 60-day deadline to reach a deal.
"I don't expect to see revenues from this process this year," Oliveira told Reuters, though he said the government is working to reach an agreement as soon as possible.
He declined to estimate the amount the government was owed, saying only it would be billions of dollars.
The revenue could help Brazil plug a budget hole and slow down growth in public debt after it suffered a sovereign downgrade last week.
On the other hand, if a resolution is reached favoring Petrobras, the government could make payments in the form of barrels of oil, sidestepping any spending increase, Oliveira said.
Copyright Ships & Ports Ltd. Permission to use quotations from this article is granted subject to appropriate credit given to www.shipsandports.com.ng as the source.