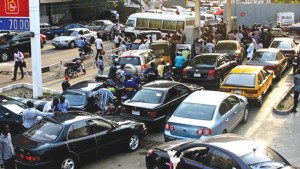 Petrol scarcity seems imminent in Lagos and its environs as the Lagos State chapter of Independent Petroleum Marketers Association of Nigeria (IPMAN) threatens to down tools for two weeks over what it described as "depot owners' outrageous charges on fuel products and incessant extortion of its members by the Department of Petroleum Resources (DPR)".
Also panic buying by motorists and individuals is seen to be gradually returning to petrol stations in Lagos over the ultimatum.
The ultimatum, which the association issued to the federal government, Department for Petroleum Resources (DPR), Nigerian National Petroleum Corporation (NNPC) and Petroleum Pricing Regulatory Agency (PPRA) indicates that from March 1 when the strike is expected to commence, there would be fuel scarcity in the affected areas and this would cripple business activities and create unusual hardship for citizens except the government intervenes.
In a joint statement signed by its chairman, Ayo Alanamu, and General Secretary, Kunle Oyenuga yesterday, IPMAN vowed to shut down all its members' 2000 fuel stations across Lagos State and its environs.
SHIPS & PORTS DAILY discovered that the threat is already creating panic buying as queues were seen building up at petrol stations across the metropolis.
A motorist and sachet water producer in Lagos, Emmanuel Okatubo, told SHIPS & PORTS DAILY that he does not want to be taken unawares like before so he had already sent his boys with jerry cans to buy fuel which they will stock.
"I know the way this thing works. It is always engineered by politicians or some people that had scores to settle. By today, you will see motorists rushing to the petrol stations. The attendants will also increase the pump price.
"It happened to us a few years back so I cannot wait till the last minute. Since they said they will go on strike from the 1st of March, it is something they already planned and they will embark on it for one or two days before it is called off. If it happens it is people like us that will suffer because the DISCOs cannot be trusted. So that is why I sent the boys out to buy. We will keep it. It is not a waste even if the strike is cancelled," he declared.
Another motorist, Jackson Oliseh said that the announcement alone is all that is needed to create panic buying.
"As I am talking to you I am close to a petrol station. The motorists are gathering with containers to buy fuel. In the last ten minutes the number has more than doubled. It is sign of chaos," he said.
According to IPMAN, its members were expected to buy a litre of fuel at the rate of N133.28 kobo from the private depots owners and sell at N145 per litre to the public in accordance with the federal government's directives.
The association however claims that the depot owners ignore government's directive and sell to the marketers at N141.00 per litre.
"If an IPMAN member, buys a tanker of fuel at the rate of N4,752,000, he can only make a profit of N33,000 out of which bank rates and interests, and staff salaries will be paid plus other  logistics," the group said.
Copyright 2016 Ships & Ports Ltd. Permission to use quotations from this article is granted subject to appropriate credit given to www.shipsandports.com.ng as the source.