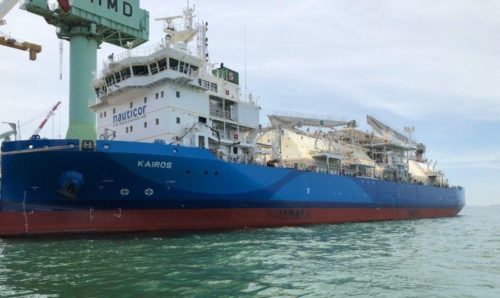 Petroliam Nasional Bhd on Thursday supplied its first liquefied natural gas (LNG) cargo to a newly built LNG marine fuel supply vessel ahead of a new mandate for ships to switch to cleaner fuels in 2020.
Petronas LNG, loaded the cargo onto the world's largest LNG bunker vessel, Kairos, at the Regasification Terminal Pengerang (RGTP) located in the southern Malaysian state of Johor, Petroliam Nasional, Petronas, said in a statement.
"We believe that small-scale LNG opportunities will increase from the utilization of alternative cleaner fuel such as LNG," Petronas LNG Chief Executive Officer, Ezhar Yazid Jaafar, said.
Shipowners are seeking cleaner fuels, including LNG, to meet new regulations imposed by the International Maritime Organisation (IMO) in January 2020 that cap the sulphur content of ship fuel, also known as bunkers, at 0.5 percent.
The Kairos has a capacity of 7,500 cubic metres of LNG, and it stopped in Malaysia to refuel while making its way from South Korea's Hyundai Mipo Dockyard in Ulsan to Europe, Petronas said.
The Kairos is owned by Babcock Schulte Energy (BSE) and is on time-charter by Blue LNG, a joint venture company between Nauticor and Klaipedos Nafta. Construction of the ship began in 2016.
"Kairos is now on her positioning voyage to the Baltic, where she will deliver into time charter on arrival at Klaipeda, Lithuania," said Angus Campbell, Bernhard Schulte's corporate director of energy projects.
"This is a significant milestone for us," said Campbell.
"For the wider market, Kairos represents an important addition to the global LNG fuelling infrastructure, building confidence in the availability of this cleaner fuel choice," he said.
Kairos is capable of performing both ship-to-ship LNG bunkering operations as well as break-bulk LNG transshipments, Campbell said.
Klaipeda is a port on the Baltic Sea that is part of so-called emission control area, a special coastal zone where bunker fuel emissions are limited to 0.1 percent sulphur.