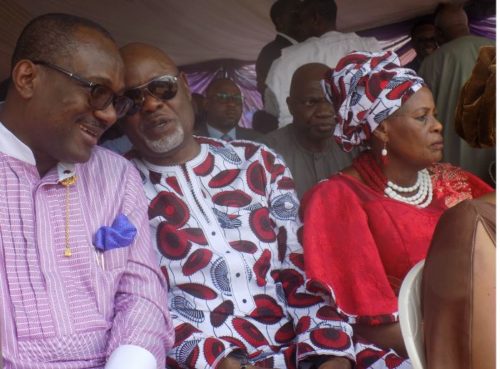 It was a celebration of life well spent as the President, Ship Owners Association of Nigeria (SOAN), Engr.Greg Ogbeifun buried his mother, Deaconess Cecilia Ogbeifun who died on January 9, 2019 at the age of 100 years. 
Late Cecilia Ogbeifun was interred shortly after the service of songs held in her honour in the family house at Benin, Edo State.
Dignitaries including the Governor of Edo State, Godwin Obaseki; Director-General, Nigerian Maritime Administration and Safety Agency (NIMASA) Dakuku Peterside; Executive Secretary, Nigerian Content Development and Monitoring Board, Engr. Simbi Wabote and former Managing Director of Nigerian Ports Authority, Chief Adebayo Sarumi were among guests that graced the occasion.
Recalling his mother's last moments, Ogbeifun said, "Six days before mama died, all of us the children who were in the country were around her. We followed her through till she gave up the last breath. She just kept praying for us telling us we should be strong and that she is sure we will be ok but she had to go and be with her maker."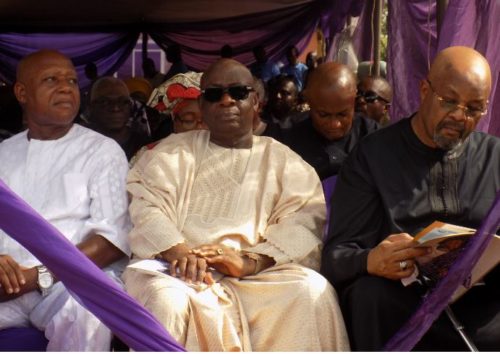 Ogbeifun described her mother as a great woman who imbibed in her children good virtues and Christ-like qualities, stating that she will be greatly missed for her love, care and prayers.
He said, "No matter how old she was, knowing that you have a mother will always give you that confidence in doing what you want to do. I call my mother a good mother hen. When a hen hatches, she will cover those chicks with her wings and they will stay there in safety and the hen generally oversees her children until they become independent enough and that was what mama was.
"All 10 of was she gave birth to, she nurtured us to imbibe certain qualities in life such as integrity, honesty, hard work and she always admonished us have a relationship with Christ so that we can live a worthy Christ like-life.
"So mama was always focused on her children with my father before he passed on, ensuring that we are toeing the part of honesty and integrity and above all, the fear of God."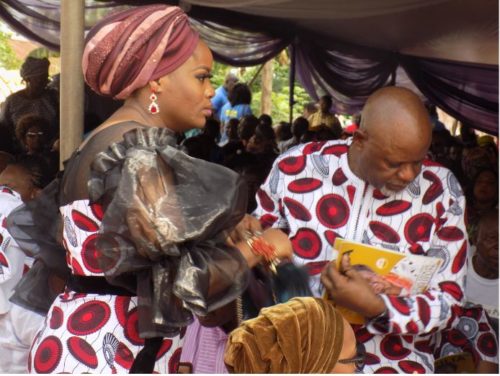 Earlier in his remarks, the Director-General of NIMASA, Dakuku Peterside said, "From the testimonies of people, mama was a very resourceful person, a woman of virtue. The church honoured her; women all over Benin honoured her. She did not have a formal education but that did not deter her from given the best to her children.
"She raised children that are of high standing in society today because she appreciates the value of education. She is a role model for women, so we are not just celebrating her; we are celebrating what she represents. She represents what can be called a woman of virtue by all of us and for younger women."
Secretary to the Government of the Federation, Boss Mustapha, who commiserated with the family in a condolence letter, described late Deaconess Cecilia as a devoted Christian mother, grandmother and great grandmother who will be fondly remembered for her forthrightness and selfless service to her family and community.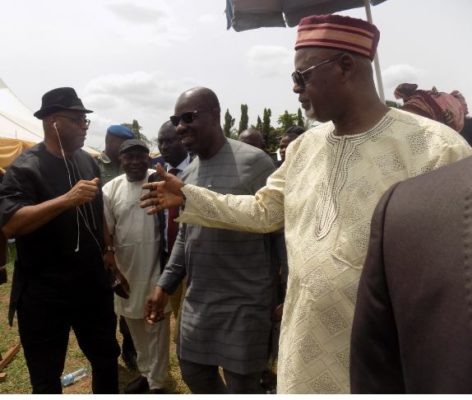 Chairman, Shipowners Forum, Mrs. Margret Orakwusi, in her condolence message, urged the Ogbeifun family to take consolation in the fact that their matriarch lived a noble Christian life, aged gracefully and positively affected lives.
Other dignitaries who graced the event include immediate past President of the Association of Nigerian Licensed Customs Agent (ANLCA), Prince Olayiwola Shittu; former President, Maritime Arbitrators Association of Nigeria (MAAN), Dr. Omoegbai Omo Eboh; and former President, Association of Marine Engineers and Surveyors (AMES), Engr. Charles Uwadia, among others.
Late Deaconness Cecilia Ogbeifun, popularly called Mama Ijesu by people who lived within her vicinity, is survived by 10 children, 44 grand children and 22 great grand children.