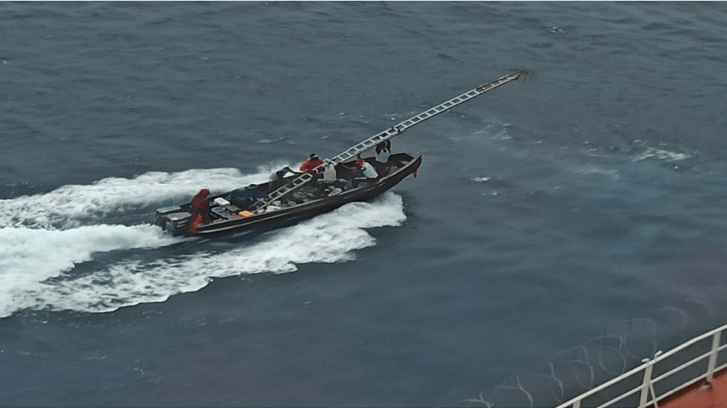 Pirates have launched a fresh attack against a vessel in the Gulf of Guinea, injuring two crew members less than three months after the Nigerian Maritime Administration and Safety Agency (NIMASA) launched its much-touted Deep Blue project.
The Deep Blue project, which cost Nigeria a whopping USD195 million (about N80 billion), was touted by NIMASA and the Minister of Transportation, Rotimi Amaechi, as the answer to piracy in the Gulf of Guinea.
Both Amaechi and the Director General of NIMASA, Dr Bashir Jamoh, assured the maritime community that the project would end piracy in the Gulf of Guinea. Jamoh had described the project as "mission accomplished".
The project, also called the Integrated National Security and Waterways Protection Infrastructure, was launched by President Muhammadu Buhari on June 10, 2021.
But on Sunday, September 5, the daredevil pirates struck again as they successfully attacked an offshore supply vessel and injured two crew members in the Gulf of Guinea off the coast of Gabon.
The International Maritime Bureau Piracy Reporting Centre (IMB PRC), which confirmed the attack, said another crew member has been reported missing.
According to the IMB PRC report, five persons in a speed boat armed with guns approached, fired upon and boarded the offshore supply ship, which was at anchorage.
"The alarm was raised and crew members secured themselves in the ship, but two crew were injured due to the firing and required hospitalization," the report said.
The remaining crew was reported safe and local authorities were notified.
The IMB's latest global piracy report showed 68 incidents of piracy and armed robbery against ships in the first six months of 2021, the lowest total since 1994 and down from 98 incidents during the same period in 2020.
However, the Gulf of Guinea continues to be particularly dangerous for seafarers with 32% of all reported incidents taking place in the region. The region also accounted for all 50 kidnapped crew and the single crew fatality recorded by IMB during the first half of 2021.
"Whilst IMB welcomes reduced piracy and armed robbery activity in the Gulf of Guinea, the risk to seafarers still remains. By reporting all incidents to the Regional Authorities and IMB PRC, seafarers can maintain pressure against pirates.
"Bringing together maritime response authorities through initiatives – like Nigeria's Deep Blue Project and Gulf of Guinea Maritime Collaboration Forum – will continue and strengthen knowledge sharing channels and reduce risk to seafarers in the region," IMB Director, Michael Howlett, said.