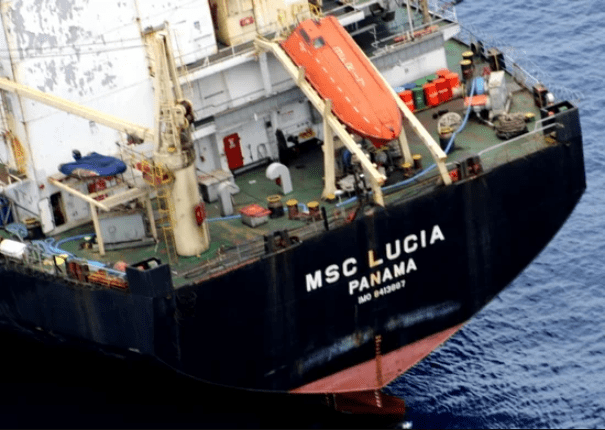 An MSC containership came under attack in the Gulf of Guinea off the coast of Nigeria on Monday. This is the fifth attack by pirates on ocean going vessels in the country this year.
Maritime security firm, Dryad Global, which confirmed the attack, said the MSC Lucia was boarded by an unknown number of attackers approximately 86 nautical miles southwest of the offshore Agbami Oil Terminal, located approximately 70nm south-southwest of the Niger Delta.
"The incident is understood to be ongoing," the company said. Vessels transiting the area were advised to exercise extreme caution.
MSC Lucia is a Panama-flagged containership measuring 189 meters in length and 1,951 TEU, according to MSC's website. The ship was built in 1985.
The International Chamber of Commerce (ICC) International Maritime Bureau's (IMB) latest quarterly global piracy report showed the number of reported incidents of piracy and armed robbery against ships globally has fallen to the lowest in decades.
Incidents in the Gulf of Guinea region, the global hotspot for pirate activity over the last several years, fell to 28 incidents of piracy and armed robbery in the first nine months of 2021, compared to 46 for the same period in 2020. Nigeria reported only four incidents in the first nine months of 2021, in comparison to 17 in 2020 and 41 in 2018. Crew kidnappings in the Gulf of Guinea have also dropped with only one crew member kidnapped in Q3 2021, compared to 31 crew members taken in five separate incidents during Q3 2020.
"We welcome the decrease of piracy and armed robbery attacks in the Gulf of Guinea and the efforts taken by maritime authorities in the region.
"However, there needs to be sustained efforts to ensure the continued safety of seafarers as they transport essential goods throughout the region. Coastal States must redouble their coordination and security measures to ensure that piracy and armed robbery incidents continue to decline," the Director of IMB, Michael Howlett, said.
Copyright Ships & Ports Ltd. Permission to use quotations from this article is granted subject to appropriate credit given to www.shipsandports.com.ng as the source.