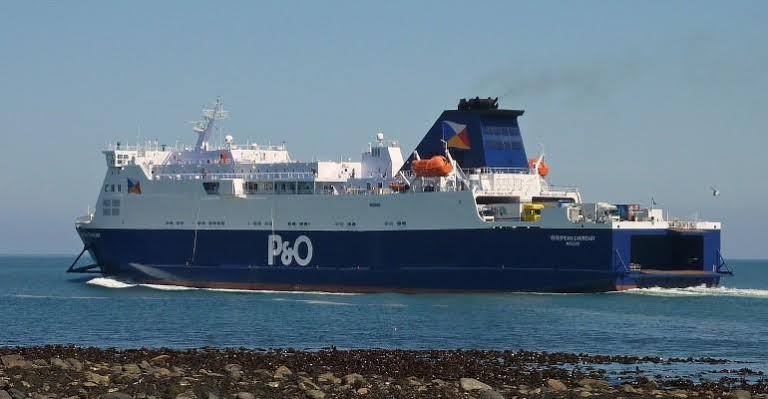 P&O Ferries vessel European Causeway has failed a Port State Control Inspection and been detained in Northern Ireland.
The UK Maritime and Coastguard Agency (MCA) said the ferry had been detained due to "failures on crew familiarisation, vessel documentation and crew training."
"The vessel will remain under detention until all these issues are resolved by P&O Ferries," the MCA said.
European Causeway operates on the Cairnryan to Larne route between Scotland and Northern Ireland,
P&O confirmed the MCA inspection of European Causeway, "during which it was deemed not sufficiently ready for entry into operation."
"We shall review the findings, make any changes required and continue to work closely with the MCA to return the ship to service," the embattled company said.
Port state control measures and regulations were a focus in a joint committee hearing at UK parliament on March 24, where MCA representatives said they were bound by detailed rules and would carry out their work with the utmost professionalism.
P&O Ferries brought itself into the spotlight when it fired 800 seafaring staff without notice. During the joint committee hearing, P&O Ferries CEO Peter Hebblethwaite admitted to MPs that its failure to notify unions in advance was illegal.
Committee members repeatedly probed those giving evidence from unions and the MCA as to how a fresh crew could sufficiently become familiarised with ships and their safety procedures within the 10-day timeframe P&O Ferries aimed for. Union leaders said that the training process would take up to a month, rather than the few days P&O Ferries was hoping to complete it in before returning the vessels to service.
The union representing MCA surveyors, Prospect, called on its members to check P&O Ferries vessels from top to bottom before allowing them to sail, adding to mounting union pressure from across the UK and international maritime community.
Nautilus International and the RMT, unions which represent the majority of fired staff, welcomed the news that the vessel will not be permitted to sail.
Nautilus General Secretary Mark Dickinson said, "In a safety critical industry such as shipping, the importance of a competent, well trained, experienced crew cannot be overstated.
This is even more the case in a company such as P&O Ferries where – in addition to the risks that are present in all shipping operations – there exists the additional pressures inherent in operating vessels that carry up to 2,000 passengers to extremely tight schedules, with rapid turnarounds, in the busiest shipping lanes in the world."
In his reaction, RMT General Secretary Mick Lynch said, "The seizing of the European Causeway by the MCA tonight shows that the gangster capitalist outfit P&O [Ferries] are not fit and proper to run a safe service after the jobs massacre. This mob should be barred, their ships impounded and the sacked crews reinstated to get these crucial ferry routes back running safely."
Copyright Ships & Ports Ltd. Permission to use quotations from this article is granted subject to appropriate credit given to www.shipsandports.com.ng as the source.