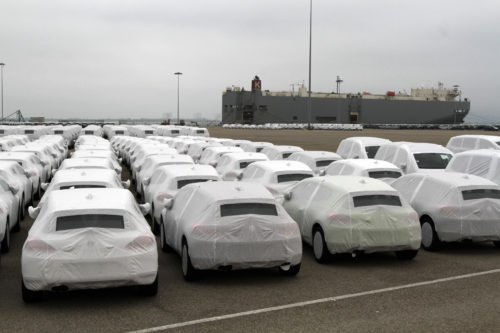 Police in riot gear on Thursday broke up a picket line of striking stevedores in the Portuguese port of Setubal to clear the way for strikebreakers hired to resume shipments of cars made at a nearby Volkswagen plant nearby.
Thousands of cars have piled up at the port and at the Volkswagen Autoeuropa plant since the strike began on Nov. 5, forcing the manufacturer to cancel seven shipments.
Stevedores tore down the fences around the main access road to the port and sat and lay in front of a bus with strikebreakers before police hauled them away one by one, while others shouted "Go away, go away!".
Stevedores' union SEAL accuses the port authorities of a "criminal wage discrimination" against the majority of stevedores who have no permanent contracts and are usually hired for a day's job.
Volkswagen Autoeuropa said in a statement the ship's loading on Thursday was made possible thanks to guarantees provided by the government and the port operator. It said no alternative shipping route was capable of handling its production volume.
The plant makes more than 880 cars per day, including the new T-Roc SUV. Autoeuropa is Portugal's single largest exporter.
The union said 30 strikebreakers had been hired specifically by the car manufacturer to load the ship with some 2,000 Volkswagen cars that had been piling up at the port and were paid far more than workers usually were.
Volkswagen would not comment on the hiring of strikebreakers.