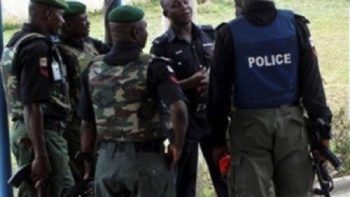 The police have arrested five suspects for allegedly impersonating the All Progressives Congress leader, Ahmed Tinubu, the Senate President, Senator Bukola Saraki, the Minister of Transportation, Rotimi Amaechi and others.
The suspects have also allegedly defrauded their victims of over N20million in the last six months.
The suspects arrested are High Chief Ovie Ogo, Abdullazeez Eragbe, Babatunde  Oshamoto,   Samuel Idah and Prince Attah a.k.a Maurice who is based in United Kingdom and currently at large.
Items recovered from them include 14 assorted G.S.M sets, all with sim cards registered with the names of top Government officials and other prominent Nigerians, several extra registered sim cards and a diary containing phone numbers of several top government officials and prominent persons in the country.
The police noted that the suspects confessed to the crime admitting to have impersonated several prominent citizens.
Speaking on how the arrest was made, the Force Spokesman, CSP Jimoh Moshood said: " On 28 of March, the Intelligence Response Team (IRT) on the of cracked and arrested the notorious suspected criminals who posed as chief of staff to President, Senate President, National Security Adviser to President, Minister of petroleum, Minister of Finance, Minister of Transport, Chief Bola Tinubu, and many other prominent Nigerians.
"In a coordinated operation in synergy with the Technical Intelligence Unit (TIU) after a painstaking and sustained surveillance by IRT the suspects were arrested.
"The four man gang notorious syndicate led by one High Chief Ovie Ogo ( Eze Ireoma of Omoku-Rivers state) was arrested in an Hotel in Kaduna State."
Highlighting the roles they played, Moshood said: "High Chief Ovie Ogo (Eze Ireoma of Omoku-Rivers state) 47yrs native of Omoku Rivers State who impersonates Prominent Citizens from the South-South and Southeast.
"Abdulazeez Eragbe 40yrs impersonates prominent citizens from the North, born and brought up in Kaduna speaks Hausa fluently and Babatunde Oshamoto 49yrs impersonates prominent citizens from the South West and North Central.
He added: "Samuel Idah 25yrs supplies them with Sim cards registered with the names of the prominent Citizens."
On some of their operation, the Force Spokesman said: "Chief Ovie Ogo confessed that he posed as the National Security Adviser and collected ₦13,000,000 from a Ghanaian who wants to get an Oil block in Nigeria.
"The gang also posed as the Secretary to the Government of the Federation and collected ₦4,000,000 from one man who is seeking Federal appointment.
"They equally posed as Chief of Staff to the President and collected ₦2,500,000 from another individual, who is looking for contract.
He added: "The suspects again posed as the Chief of Staff to president and collected #700,000 from one young man who is also seeking Federal appointment."
The police while noting that investigation is being intensified to arrest other suspects at large added those arrested will be charged to court on completion of investigation.
The police also urged members of the public to be careful and verify the identity of those they may wish to transact business or relate with.
Copyright Ships & Ports Ltd. Permission to use quotations from this article is granted subject to appropriate credit given to www.shipsandports.com.ng as the source.