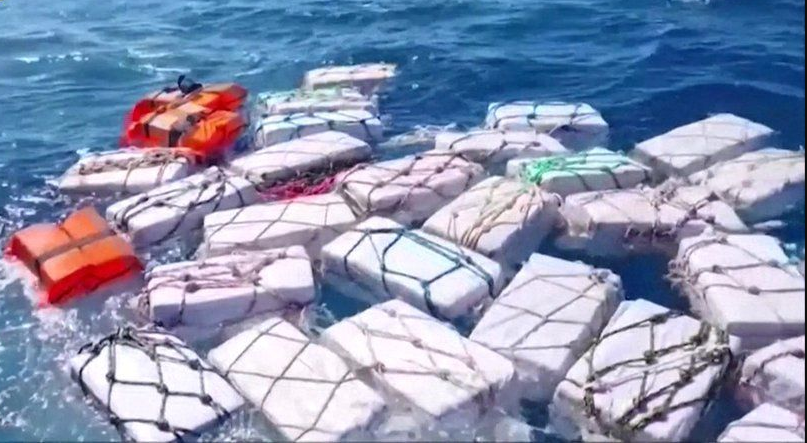 Italian police on Monday seized two tons of cocaine found floating off the east coast of Sicily. With an estimated street value of more than 400 million euros, Italy's Guardia di Finanza [Financial Police] hailed it as a record seizure.
The police released video they said showed the drugs wrapped in 70 waterproof packages held together by nets and kept afloat by life preservers. They said they'd also found a flashing tracking device attached to the drugs.
Spotted during an aerial patrol, the cocaine is suspected by police to have been left at sea by a cargo ship for subsequent retrieval and transportation to the mainland by a criminal organisation, although officials didn't say which group, if any, was suspected.
Organised crime on the island of Sicily has long been dominated by the Cosa Nostra syndicate. Once the most powerful mafia group in Italy, Cosa Nostra has tentacles that reach into the U.S. and around the globe.
In January, Italian authorities arrested the group's "last godfather," Matteo Messina Denaro, after a 30-year manhunt. Locals cheered the capture of the 60-year-old, who once boasted that he could fill a cemetery with his victims.
The drug trade in present day Italy, and much of Europe, is dominated by the 'Ndrangheta crime group, based in the craggy mountains of Calabria, on the Italian mainland near Sicily.
While its stock-in-trade used to consist of kidnappings for ransom, the 'Ndrangheta has since become a highly sophisticated global network with a firm hold on the international narcotics trade and control over vast swathes of its home turf, where even police fear to tread, according to Italian officials.
The pan-European law enforcement agency Europol has identified 'Ndrangheta as one of the "most threatening" organised crime groups on the planet due to its "enormous financial might" and "immense corruptive power."
Copyright Ships & Ports Ltd. Permission to use quotations from this article is granted subject to appropriate credit given to www.shipsandports.com.ng as the source.