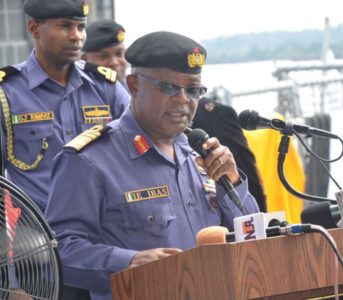 By Omotilewa Quadri 
The Nigerian Navy on Monday said inadequate resources was hampering its effective operations.
Chief of Naval Staff, Vice Admiral Ibok-Ete Ibas, disclosed this at the 2017 budget performance and 2018 budget defence session before members of the House of Representatives Committee on Navy.
Ibas said that navy's funding challenge had resulted in its inability to meet certain operational milestones.
According to him, the funding pattern is merely a continuation of the situation that had endured for several years.
"It needs be said that the funding challenge is unavoidable under the regime of the Zero Based Budgeting (ZBB).
"The appropriation which is drastically limited ab initio by the ZBB, seem to be further progressively decreasing each year from budgeted funds to appropriated amount, down to final releases across both capital and overhead votes.
"Often, in some cases, less than five per cent of the budgeted amount is only accessed.
"On account of such poor funding profile, the service is unhealthily deficient in practically all operational key enablers,'' he said.
Ibas added that some of the areas badly affected included the inability to achieve the milestones of Nigeria Navy Order Of Battle (ORBAT).
According to him, several projections made the current ORBAT require huge outlay for the deployment of requisite structures, and the absence of robust funding has made it impracticable to activate these projections.
He also said that there had been difficulty in sustaining the operations of the force.
 "Notwithstanding that the size of the fleet itself is too lean for the maritime expanse to be covered, its support is already impracticable with the meagre budgetary releases.
"With the recent fleet expansion following the induction of 150 boats and three news ships by the close of 2016 and early last year, the logistics outlay has also increase substantially.
"This has made it extremely difficult for the Nigerian Navy to sustain its operations.
"The funding deficit experienced has also severely constrained the Navy in its capacity to deliver required training infrastructure, which will be necessary to meet the service manpower need in number and quality,'' Ibas said.
He also said that inadequate barrack accommodation and other welfare structures were major challenges to the navy, adding that moderate growth in strength was unsupported by poor rate of accommodation and other welfare items delivery.
In his remarks, Chairman of the committee, Rep. Abdussamad Dasuki, decried the dwindling allocation to the Navy over the years.
According to him, in view of the advancing security threats and scarce resources, there is no better time than now to re-evaluate the envelope system of budgeting as it concerns the navy.  
Copyright Ships & Ports Ltd. Permission to use quotations from this article is granted subject to appropriate credit given to www.shipsandports.com.ng as the source.