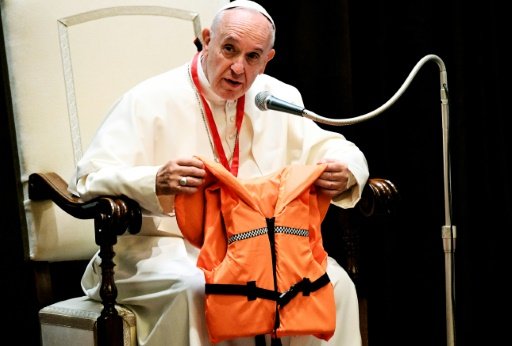 Pope Francis on Saturday clutched the life-jacket of a drowned girl as he met with children whose parents died during deadly boat crossings, at the end of a week of major tragedies in the Mediterranean.
"I want to ask the pope to pray for my family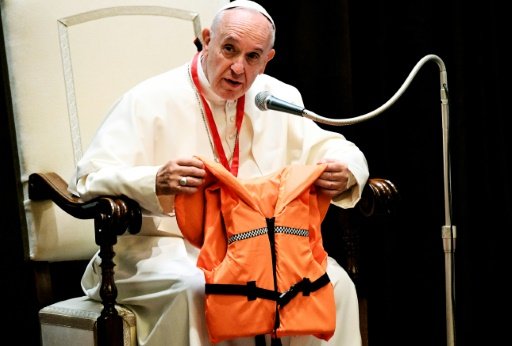 , which is now in heaven, and my friends, also in heaven, who died in the water," Nigerian adolescent Siander said as the pontiff bowed his head in prayer.
The pope met migrant minors as well as Italian youngsters who let off dozens of white balloons inside Vatican grounds.
The children pledged to help those in need and presenting Francis with drawings capturing the dangers at sea.
The 79-year-old Argentine showed the children an orange life-jacket which he said had been taken from a girl who had drowned at sea.
It was given to him by a rescue worker who had wept as he described his doomed attempts to save her.
"He brought me this life-jacket and, crying, he said: 'Father, I failed. There was a girl, in the waves, but I could not save her. All that is left is her life-jacket," Francis said.
"I don't want to upset you, but you are brave and you know the truth. They are in danger: many children… they are in danger," the pope told the children, who sat cross-legged in front of him.
"Think about this girl. What was her name? I don't know: a child without a name. Each of you must give her the name you want to. She is in heaven, she is watching over us," he added.
Children from a school in Calabria in southern Italy handed the pope a letter in which they promised "to welcome whoever comes to our country" and "never think of those who are different from us as a dangerous enemy".
An estimated 10,000 people were rescued last week near the Libyan coast as a bout of good weather kicked off a fresh stream of boats trying to cross from north Africa — some of which capsized at sea.
On Friday the Italian navy recovered the bodies of 45 migrants who had drowned, while dozens of others were still missing.
The tragedy followed the death of 30 people in a shipwreck Thursday and around 100 feared missing after a boat capsized Wednesday.
The flow into Europe via Greece and the Balkans route, which hundreds of thousands of people used in 2015, has slowed to a trickle after countries shut their borders.
But around 40,000 migrants have already landed on Italy's shores so far this year and aid organisations warn there are vulnerable groups massing in Libya and Egypt, ready to attempt the crossing at whatever cost.
Copyright Ships & Ports Ltd. Permission to use quotations from this article is granted subject to appropriate credit given to www.shipsandports.com.ng as the source.