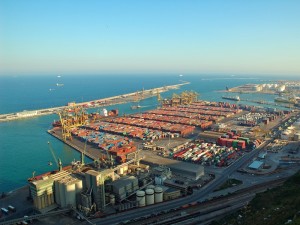 The Port of Barcelona has expressed concerns over the ongoing situation related to the recently announced plan by the Spanish government to reform the port system.
Earlier, Inigo de la Serna, the Spanish Minister of Public Works, said he will launch a decree issued by the European Union Court of Justice according to which at least 6,500 dockworkers could lose their jobs in the future. The decree is expected to be approved on February 17, 2017.
Reacting to the announcement by the minister, Spanish trade unions informed they plan to go on strike on February 20, 22 and 24, 2017.
Commenting on the current situation, the Port of Barcelona said it regrets it hasn't been given the opportunity to negotiate and analyze the situation regarding the port system reform.
The port is concerned over the conflict and its possible negative impact on the economy of the country.
However, the Port of Barcelona is aware that it is necessary to introduce changes in the existing stowage model which should comply with the EU rules.
Once the decree is adopted, all parties involved will manage locally the changes in the stowage model.
The Spanish government has succumbed to the pressure of unions and decided to join the negotiating table with dockworkers on the port reform.
For now, the workers await next Tuesday's ruling by the Ministry of Public Works. In case their demands are not met, the country's unions will proceed with the announced strike.
Copyright Ships & Ports Ltd. Permission to use quotations from this article is granted subject to appropriate credit given to www.shipsandports.com.ng as the source.