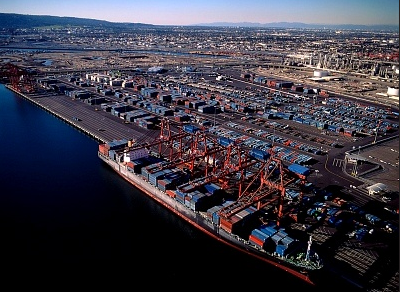 Cargo volume at the Port of Los Angeles fell by nearly 30% in May as trade continues to be impacted by the COVID-19 crisis and lingering trade war with China, dashing hopes of a rebound.
The port's Executive Director, Gene Seroka, announced the May volumes in a news briefing o Wednesday.
Seroka, who started his briefing by condemning the murder of George Floyd by Minneapolis Police officers, expresses the port's support of the Black Lives Matter movement.
He said the Port of Los Angeles moved 581,665 Twenty-Foot Equivalent Units (TEUs) last month, a 29.8% decrease compared to last year's record setting May, stating that the month was the slowest May at the port since the Great Recession of 2009.
Seroka noted key factors as fewer consumers purchasing and manufacturing as the result of the economic shutdown from the COVID-19 pandemic.
"We also see the continued negative impact of the trade war between the United States and China and policies in the place," he said.
He said May 2019 was the busiest May in the port's history so "the bar was set pretty high," he said.
Five months into 2020, overall cargo volumes have decreased 18.7% compared to 2019. For the San Pedro Bay complex, which includes Los Angeles and Long Beach, container volumes are lagging 13% this year-to-date behind 2019.
"Any notion of economic recovery in the shipping industry is too early to discuss," he said.
On Tuesday, the Port of Long Beach reported that May containerized cargo increased by 9.5% compared to May 2019, breaking seven consecutive months of declines attributed to the U.S.-China trade dispute and the COVID-19 epidemic.
The Port of Los Angeles continued to experience the highest number of cancelled sailings in recent memory, although June estimates appear to be returning towards normal.
"As the U.S. economy begins to recover, we expect fewer canceled sailings and an uptick in cargo compared to previous months," Seroka said.
The Port of Los Angeles is the busiest port in the United States and top gateway for imports from China.