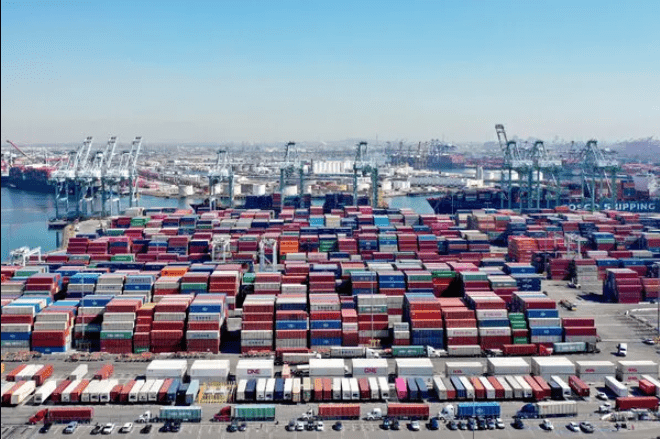 The Port of Los Angeles, the busiest container port in the United States, reported its busiest September on record last month as supply chain disruptions continue.
The port said it processed 903,865 TEU in September, bringing its year-to-date cargo volume to nearly 8.2 million TEU, for an increase of 26% compared to 2020.
September 2021 loaded imports reached 468,059 TEUs, about the same amount compared to the previous year. Loaded exports dropped 42% to 75,714 TEUs compared to the same period last year. It was the lowest number of exports since 2002. Empty containers climbed to 360,092 TEUs, a jump of 28% compared to last year due to the continued demand in Asia. In total, September's 903,865 TEUs was 2.3% above last September's previous record of 883,625 TEUs.
"Despite the global supply chain challenges, the Port of Los Angeles and its partners continue to deliver record amounts of cargo," said Port of Los Angeles Executive Director Gene Seroka. "This is made possible by the extraordinary effort of our longshore workers, truck drivers, terminal operators and so many others on the waterfront and in our region's warehouses. I'm grateful to all of them.
"Of particular note is the great work by BNSF and Union Pacific, which have reduced the rail backlog in half in the last month and by two-thirds over the last two months," Seroka added. "We've got more work to do but we've made significant progress due to the collaborative efforts with our Class 1 railroads."
The ports of Los Angeles and Long Beach handle about 40% of all containers imported into the United States. Both have been moving towards 24/7 operations to help relieve congestion.
After meeting with the Biden Administration last week, Seroka sent a letter to President Biden on Wednesday stressing the need for continued federal support to "build resiliency and adaptability" into the supply chain. Specific requests included funding for an 80-acre site to facilitate empty container returns and staging of loaded imports, support for workforce training and development, investment in technology to boost supply chain visibility, and funds for more zero-emissions trucks.