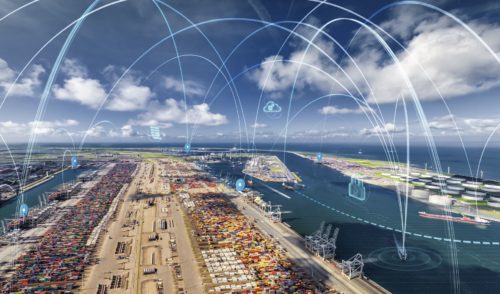 The Port of Rotterdam Authority has signed a partnership agreement with an artificial intelligence software startup to help develop autonomous navigation within the port.
The Port of Rotterdam Authority says it is not a question of if, but when autonomous navigation will be introduced. So in order to prepare for this shift, it has converted a patrol vessel into a floating lab designed to collect data, including about the vessel's operation and power, which will then be made available to businesses and the research community.
For its first partnership, the Port of Rotterdam has signed an agreement with the start-up Captain AI, which will add artificial intelligence to the data with the goal of training as artificial "captains" to navigate independently through the port.
"The Port of Rotterdam Authority is continuously examining how our port can be even safer, more efficient and better," said Ronald Paul, Port of Rotterdam Authority COO. "By cooperating with other parties, including by making our data available, we aim to promote the development of new technologies and investigate the impact of these on the port and port facilities. We expect the arrival of autonomous navigation to further increase the safety and accessibility of the Port of Rotterdam and, moreover, it will be an effective aid for skippers and shipping traffic controllers. That is why the Port of Rotterdam Authority aims to test this application, which has already been used in aviation for many years, together with other parties."
The Port of Rotterdam Authority has equipped a former patrol vessel (RPA3), the so-called floating lab, with cameras, sensors and measurement equipment to obtain data on weather and water conditions and about the vessel's operation, power and engine.
As well as autonomous navigation, the floating lab will test other applications, including the use of cameras for automatic inspection of quay walls or detection of objects in the water. The combination of sensors on the water with land-based sensors to develop a network and smart infrastructure will also be investigated.   
Copyright Ships & Ports Ltd. Permission to use quotations from this article is granted subject to appropriate credit given to www.shipsandports.com.ng as the source.