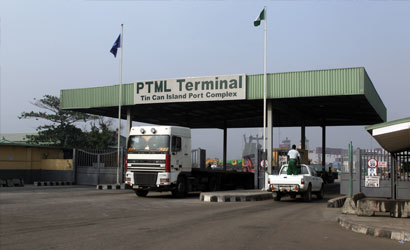 The Lagos Maritime Security zone of the Port Facility Security Officers (PFSO), has thrown its weight behind the issuance of port access cards by PTML terminal located at the Tin Can Island Port Complex, Lagos as a condition for freight forwarders to access its terminal.
Speaking against the back drop of threats by the freight forwarders under the aegis of the National Association of Government Approved Freight Forwarders (NAGAFF) over the electronic access control cards, Chairman of the Forum, Ignatius Uche, said the measure by PTML is in line with the provisions of the International Ships and Ports Facilities Security Code (ISPS Code).
Uche said under the ISPS Code, no facility should allow unauthorised persons access into its premises without profiling.
He took a swipe at the freight forwarding association, saying that the threat of showdown is only for pecuniary motive.
He said, "Nobody should cow PTML down from enforcing the access card except we are saying every Dick, Tom and Harry should come into the terminal.
"They (agents) are sycophants. They want to cause trouble. They have pecuniary motive wanting to stop them from doing that. PTML is a green port and there is no first interface with Nigerian Port Authority before they have access into their facility. So how do you expect them to know the genuine agents when there are no screening points before you enter PTML?
"They want it to be like the former ports where people can even sleep inside the terminal. It can't happen today. They are not yet informed especially with respect to ISPS Code.
"This time around, we are into profiling of everyone that comes into the port. We are talking about security in the 21st century not those rule of the thumb security measures in place before.
"About 75 percent of ISPS Code emphasizes access control because ISPS Code believes if you have a water tight compartment access control, your facility is safe. The threat will come through the access; either vehicular or pedestrian access. If there is a check of who comes in and who does not come, then you are making your facility to be safe," the port security expert told SHIPS & PORTS DAILY.
Uche said the fee of N10, 000 for issuance of the card is reasonable as according to him, "The amount is not up to the overhead cost of producing the card and each agency is entitled to seven of the cards".
"It is not just because of the monetary aspect but for profiling. Once you obtain the card, you don't pay again. You only renew every year," he added.  
Copyright Ships & Ports Ltd. Permission to use quotations from this article is granted subject to appropriate credit given to www.shipsandports.com.ng as the source.