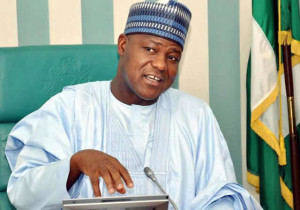 The Maritime Workers Union of Nigeria (MWUN) has kicked against the Ports and Harbours Bill 2015 which is currently pending before the House of Representatives saying it will lead to massive job loss for workers of the Nigerian Ports Authority (NPA).
In a letter dated June 1, 2017 and signed by its President General, Comrade Adewale Adeyanju and Secretary-General, Comrade Felix Akingboye, a copy of which was sighted by SHIPS & PORTS DAILY, the union said it is opposed to bill because it would cede labour operations to private individuals.
In the letter addressed to the Speaker, House of Representatives, MWUN said harbour operations all over the world are major revenue earners and the exclusive preserve of the governments. 
It warned that if passed into law, the bill would portend great security and revenue risk for the federal government and would lead to mass sack of NPA workers.
The union said it was surprised that the bill, sponsored by one Nicolas Ossai has passed second reading without relevant stakeholders being carried along.
The union's letter reads in part: "Much as we do not begrudge the Honourable Speaker and the distinguished members of the House of Representatives from enacting good and beneficial laws for the good governance of the Federal Republic of Nigeria, we are of the strong opinion that all relevant stakeholders should be carried along whenever any important bill that will affect them is being debated and not side tracked as we have been.
"As a stakeholder in the maritime industry, we shall be seriously affected by the effect of the Nigerian Ports and Harbours Authority Bill 2015 once passed into law, hence this protest letter.
"We have carefully perused the bill viz-a viz the Nigerian Port Authority Act 1955 as amended and we cannot see any deficiency in the present NPA Act that warranted this bill except the latent intent of the promoters of this bill to corner for themselves this harbour operations which is the major revenue earner for the NPA and by extension the Federal Government without taking into consideration the security implication to the country and the havoc it will wreck on the workers.
"Mr. Speaker, as we said earlier, the import of the bill is to cede harbour operations to private individuals and we make bold to say that there is nowhere in the world where this is done because of the security implications.
"In consideration of the foregoing, we write to express our total rejection of the bill and honestly demand that the bill be allowed to die a natural death because of the reasons adduced." 
Copyright 2017 Ships & Ports Ltd. Permission to use quotations from this article is granted subject to appropriate credit given to www.shipsandports.com.ng as the source.