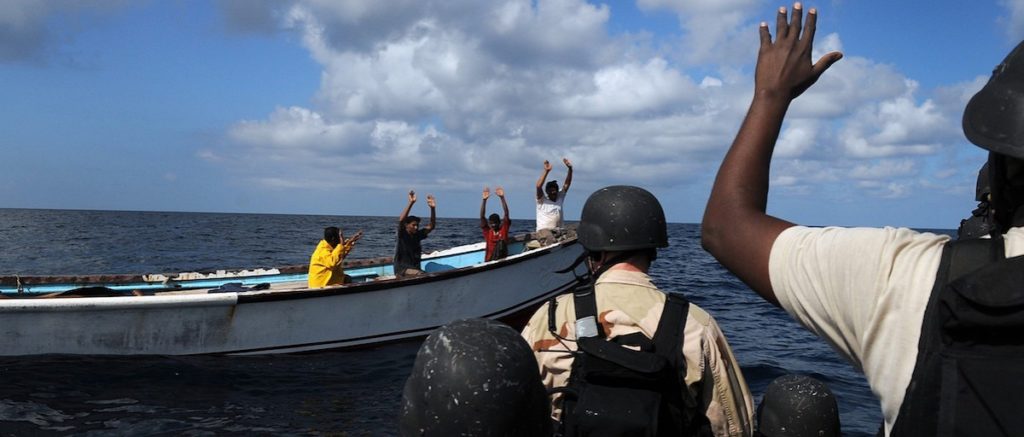 Special Assistant to President Muhammadu Buhari on Financial Crimes, Abiodun Aikomo has warned against creating additional maritime security agencies, saying the existing institutions should rather be strengthened to provide safe and secure the maritime environment for shipping business in the country.
Aikomo, who spoke in an exclusive chat with SHIPS &PORTS DAILY on Tuesday against the backdrop of increased pirate attacks on Nigeria's waters in recent times, said industry stakeholders should support the Nigerian Maritime Administration and Safety Agency (NIMASA) to put pressure on the National Assembly to pass the anti-piracy bill.
This, he said, will give NIMASA the legal backing necessary to fight piracy and armed robbery on the nation's waters.
"I think we should rather strengthen our institution. I am not in support of proliferation of institutions here and there. We need strong ones that can perform optimally; not having mushroom institutions here and there.
"The ideal thing is to ensure that we have viable institutions that are able to deliver on their mandate. So, to the extent that we have security organizations specifically set up to deal with the issue of security on our waters, the approach should be what are the things that are lacking now, how do we strengthen these institutions and how can the government come in to improve on their activities.
"The National Assembly is responsible for law making. We are to implement as executive. If a bill is pending at the National Assembly, what are the stakeholders in the maritime industry who are directly affected by this development doing? The stakeholders need to put pressure on the National Assembly to pass the anti-piracy bill expeditiously. The National Assembly is on recess now, so hopefully when they come back they can expedite action on pending bills including the anti piracy bill," he said.
The global maritime report on piracy has put Nigeria on the number one position in the number of attacks against vessels in the second quarter of 2018.
The first six months of 2018 saw a significant rise in the number of recorded piracy and armed robbery incidents in the Gulf of Guinea region compared to the same period in 2017.
The latest report from security services company, EOS Risk Group, showed that Nigerian pirates kidnapped 35 seafarers from vessels in the Gulf of Guinea between January and June 2018.
The number of sailors removed from vessels and held for ransom was the same as witnessed during the first half of 2017, but the report indicated that the spate of attacks on tanker vessels had increased drastically.