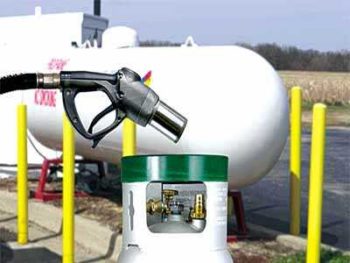 The price of cooking gas has risen by 100 per cent in Nigeria's domestic market between April 2016 and April 2017 as a result of increased demand, supply disruptions and foreign exchange issues.
A market survey over the weekend showed that the price of the 5kg rose from N1, 000 in April, 2016 to over N2, 000 in April, 2017. It showed that the prices of 10 kg and 12.5 kg which stood at N2, 000 and N2, 500 in April 2016 have risen to N4, 000 and N5, 000 respectively.
The market survey showed that the 25 kg and 50 kg which prices stood at N5, 000 and N10, 000 in April 2016 have hit the roof at N10, 000 and N20, 000 respectively.
Investigations showed that the situation was worsened when pirates hijacked a vessel which left Port Harcourt, Rivers State to discharge 13,000 tonnes of LPG in Lagos recently.
The development, it was gathered, culminated in shortage of the product, especially in Lagos and its environs.
The President of Nigerian Liquefied Petroleum Gas Association (NLPGA), Dayo Adeshina, disclosed in a telephone interview that the challenge of getting foreign exchange and other factors have impacted very negatively on LPG supply and pricing.
He said that although the Nigerian Liquefied Natural Gas Limited has been consistent in supplying LPG to the domestic market, commercial quantity of the product was still imported from the global market.
"We get the product with dollar in Naira equivalent, and as you can see now, a dollar to naira is around N360, unlike last year when we had an exchange of around N190 to a dollar. Part of the bottleneck that leads to the LPG pricing issues includes inadequate and unevenly spread receiving terminals. As at today, we have only two operational terminals in Lagos. In other words, there is limited jetty availability."
"Consequently, most of the time, the jetty is choked up because other vessels also come to discharge other petroleum products, including diesel, petrol and kerosene. But the situation may improve in future as NLNG Limited has certified another jetty called Bulk Oil Plant for product transfer."
"Also, a new terminal will come on stream in Calabar by July, and another in Port Harcourt before the end of this year. Also, NIPCO will be expanding by 5,000 tonnes, likewise Navgas by 3,000 tonnes," he added.
A Port Harcourt-based energy analyst, Zaka Bala, said in a telephone interview that many households who shifted to the use of cooking gas were being discouraged as a result of the leap in prices.
The Nigerian Bureau of Statistics stated in its latest report that the average price for the refilling of 5kg cylinder for liquefied petroleum gas (cooking gas) increased by 30 – 35 per cent on year-on year to N2,428.38 in April 2017 from N2, 493.59 in March.
"States with the highest average price for the refilling of a 5 kg cylinder for LPG (cooking gas) were Adamawa, Bayelsa, Gombe, Imo, Jigawa, Kaduna, Kano, Nassarawa, Niger, Taraba, Yobe, and Zamfara (N2,500), Enugu (N2, 477. 78)."
"States with the lowest average price for the refilling of a 5kg cylinder for LPG were Benue (N2, 350), Kwara and Sokoto (N2, 300) and Borno (N2, 228.57)." However, the NLNG Limited stated that it was not responsible for the high price as it had made adequate supply to the market.