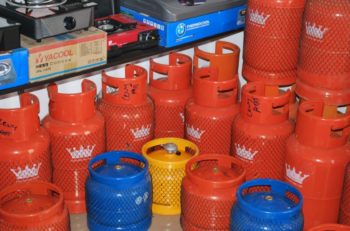 Price of cooking gas (LPG) which rose to about N7,000 in January 2017 due to delayed supply following stranded vessels at the Nigerian National Petroleum Commission (NNPC) Jetty, Apapa is still hovering between N4,500 and N5,000 even though the supply difficulties seem to have been addressed.
This situation has created wide spread condemnation among the citizens who are peeved about what they regard as government's non challance towards the unwarranted increase. Although some explanations have been given by the Nigeria LNG (NLNG) over the continued increase, some consumers who bared their mind to SHIPS & PORTS DAILY believe this is official jargon and that the blame should always be left at the door steps of the government.
Before the sudden increase which people had to grapple with, price of 12.5 kg of cooking gas was N3, 500. But in December 2016, it rose to about for N4, 500 climbing steadily until it hit N7,000 in some parts of the metropolis in Lagos before it started to come down.
Within this period, consumers had all kinds of experiences.  Some domestic gas users said that they were irked by the price increase which they said was arbitrary and thoughtless. Mrs Bukola  Oloyode, a resident in Surulere, complained that gas sellers annually exploit users by increasing price of the product when they wanted.
Giving her experience she said "I filled my cylinder with gas at N3, 500 in December, but surprisingly I was told the price has been changed to N4, 500. "In annoyance, I went to a gas plant inside a filling station, thinking that it would be cheaper, but was told they me to buy at N5, 000. "I had no choice, but to go back to the first gas plant to fill my cylinder. Surprisingly, the price has remained the same even when the dealers are getting regular supplies. This practice of gas sellers is highly unfair to users considering the economic situation in the country," she said.
Greg Ikechi, a consumer told SHIPS & PORTS DAILY that the high price of cooking gas is still the problem of those in authority. If you touch them they tell you, it is exchange rate. We know about that but since they know that it is what most Nigerians used to cook what are they doing about it," he queried.
According to him, "the thing is getting on all of us because these things are just increasing but our salary is still the same and have lost value. Last month I felt terrible. By the time I bought gas, removed money for feeding for my family, money for the children's school, nothing again was remaining. I did not even have enough to buy fuel to go to work."
Frank Edema, a dealer in Lagos said that the bringing down the price of the product has a lot to do with those that manage the economy. He said that as a dealer, he sells according to the way he buys but noted that as long as things remain the way they are in the economy, he does not see the price of gas ever going below N4,500 in the near future.
Many Nigerians believe the NLNG is responsible for the increase but organization while refuting media reports to this effect recently said that the NLNG rather softened the impact of price variations by continuing to subsidise the cost of transporting its 40 per cent of total domestic market share.
"Nigeria LNG's domestic LPG price is based on an international price index plus 50 per cent of the shipping cost of delivering the product to receiving facilities in Apapa-Lagos.
"The reality of this is that although LPG is produced and consumed locally, the product like crude oil, is an internationally traded commodity with an international price benchmark, open to global demand and supply pressures," the statement had said.