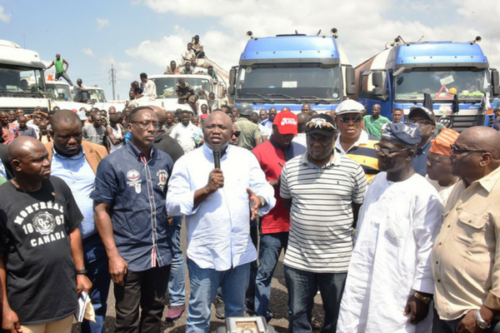 National Union of Petroleum and Natural Gas Workers (NUPENG), Petroleum Tanker Drivers (PTD), on Monday, called on the Lagos State Governor, Akinwunmi Ambode not to abandon the Orile tanker terminal project embarked upon by the state government a few months ago.
Secretary, NUPENG, Orile PTD Branch, Kehinde Ishola, who made the call, said that the governor should continue the good work at the Orile park to tackle the gridlock on the Apapa corridor.
He said, "There should be an extension of the tanker terminal started some months ago and enlarging the existing terminal to accommodate more tankers.
"Recently, we discovered the work at the site suddenly stopped after governorship primary election.
"We are begging the governor because the Apapa gridlock is affecting many businesses in the state."
Ishola said the union has removed all tankers that could disturb construction works on site and also complied with the directives given by the state government to ensure prompt completion of the project.
He lamented that the project is now turning to an abandoned project because at the stage it is now, they cannot park inside the place.
Ishola said that tanker drivers parked indiscriminately on the road due to inadequate space at the Orile terminal, saying that the completion of the terminal would stop the menace of trucks parking on the highways.