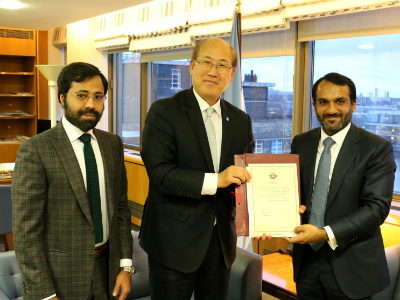 Qatar has become the 111th State to accede to the International Convention on Load Lines 1988 Protocol.
The convention is a treaty of the International Maritime Organization (IMO) is on ship safety as it stipulates limitations on the draught to which a ship may be loaded. 
The limits are given in the form of freeboards, which, together with external weathertight and watertight integrity, is the main objective of the Convention. Measures under the treaty take into account the potential hazards present in different zones and different seasons.
The 1988 Protocol updates and revises the earlier treaty. The technical annex contains several additional safety measures concerning doors, freeing ports, hatchways and other items. These measures help to ensure the watertight integrity of ships' hulls below the freeboard deck. All assigned load lines must be marked amidships on each side of the ship, together with the deck line.
Qatar's Deputy Ambassador in the United Kingdom, Mohamed Abdulla Al-Jabir, handed over his country's instrument of accession to IMO Secretary-General, Kitack Lim at IMO Headquarters in London on Monday. 
The Protocol's signatories now represent more than 97% of world merchant shipping tonnage. 
Copyright Ships & Ports Ltd. Permission to use quotations from this article is granted subject to appropriate credit given to www.shipsandports.com.ng as the source.