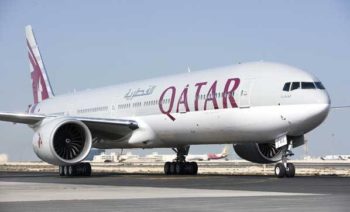 Qatar Airways Chief Executive Officer, Akbar al-Baker, on Wednesday said the airline made a "substantial" loss in its last financial year.
Al-Baker blamed the loss on a regional dispute that has banned the airline from four Arab countries. However, he did not reveal the extent of the losses.
Qatar Airways has been blocked from flying to 18 cities in Saudi Arabia, the United Arab Emirates, Bahrain and Egypt since June when those countries cut ties with Qatar, accusing it of supporting terrorism. Doha denies the charges.
"We have increased our operating costs. We had to also take a hit on revenues so we don't think that our results for the last financial year will be very good," al-Baker told reporters at the Eurasia Airshow in Antalya, Turkey.
"I don't want to say the size of the loss but it was substantial."
Other parts of the business were profitable though that was not enough to make up for the airline's loss, al-Baker said.
Qatar Airways has several subsidiaries including airport ground handling services and catering units.
The airline had warned of the loss for several months.
The state-owned airline will need another eight weeks to finalise its books and make adjustments before it announces its financial results for the year to March 31, Baker said.
Qatar Airways made 1.97 billion Qatari riyals ($541 million) profit in its previous fiscal year.
Neighbouring Saudi Arabia and the UAE were popular routes for Qatar Airways, which has also been banned from the airspace of the four boycotting states.
That has forced the airline to fly longer flights on many routes to the west and south of Qatar which requires more fuel and increases costs.
Qatar Airways has no immediate plans to ask its sole shareholder, the government of Qatar, for a capital injection but may do so if the airspace ban continues and there is pressure on its debt-equity ratio, Baker said.
Qatar Airways wants to set up a new airline, he said, without disclosing any details, and remains interested in establishing an Indian domestic carrier.
Qatar Airways owns stakes in several airlines including Cathay Pacific and British Airways-parent International Consolidated Airlines Group (IAG).
Baker said that when Qatar hosts the FIFA World Cup in 2022, the airline would have a passenger and cargo network of nearly 250 destinations. It currently flies to more than 150 destinations, according to its website.
Agency Report