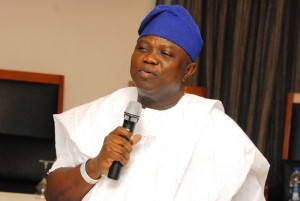 Lagos State governor, Akinwunmi Ambode, on Friday called for transformation of Nigeria's economy from being import-dependent to an inward-looking, self-sufficient and self-sustaining one.
Ambode, represented by his deputy, Dr Idiat Adebule, spoke at the 8th Annual Bankers' Committee Retreat organised by the Bankers' Committee in Lagos.
Its theme is: "Economic Recovery: The Role of the Banking Sector.''
The governor said that the orientation would help to revive the nation's economy which had recorded negative growth in the last three quarters.
"We are certainly in a peculiar situation occasioned by global recession which is posing a serious challenge to our collective financial management capabilities.
"The general outlook of the economy does not point an impressive picture as indicated by vital micro and macro-economic indices including interest rate, inflation, unemployment rate, exchange rate and others.
"We all have a duty to find solutions to the recession being experienced in our country.
"All sectors of the economy, including the banking sector, must work in synergy, with focus on one goal which is to quickly recover the economy from recession and set it on the path to sustainable growth," he said.
Ambode said that the banking sector has major role to play by providing credit facilities for investments.
He said that his administration would continue to work with the banking sector to make individuals, businesses and institutions to thrive in the state.
Also the Governor of Central Bank of Nigeria (CBN), Godwin Emefiele, said that the retreat was to find ways to catalyse the economy through adequate funding.
Emefiele, also chairman of the committee, said that time has come to create a diversified economy toward the achievement of economic recovery.
According to him, the retreat will discuss key enablers for growth within the sector that are critical to taking the country out of recession.
"In early 2014, the CBN received average monthly inflows of 3.6 billion dollars per month.
"With this decline in crude and some setbacks in oil production levels, inflows in 2016 dropped to an average of close to 500 million dollars per month.
"This situation is compounded by a high import bill of close to 1.5 billion dollars per month.
"This is mainly spent on the importation of petroleum products, raw materials, food items such as rice, wheat, sugar and fish machinery and other services.
"This weakness is also reflected in our GDP numbers for 2016, as GDP contracted by 2.24 per cent (year on year) in the third quarter of 2016.
"While the drop in our export earnings has exposed the fragility of our domestic economy, it has also reinforced the view within CBN and the Bankers' Committee for the need to revise our growth strategy as a nation," he said.