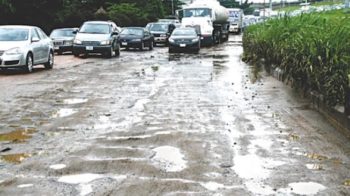 Lagos State Governor, Akinwunmi Ambode on Wednesday disclosed that the reconstruction of Oshodi-Ikeja International Airport Road will begin in September.
The governor disclosed this at the 3rd Quarterly Town Hall Meeting at Badore area of Lagos, Southwest Nigeria.
The governor said the road would be developed into a 10-lane road befitting an international road.
Ambode also disclosed that the the planned construction of 181 roads across LGs/LCDAs of the State would now begin in September.
He said the construction of the roads had been delayed because of the exchange rate, saying that by the time the projects were advertised in January 2017, the exchange rate was N490 to a dollar.
The governor explained that currently, the exchange rate was now around N350 to a dollar and that the contract for the roads would be re-advertised in two or three weeks time as government wanted to build the roads at a lower cost.
"By the next two to three weeks, I will reopen the advert to get a new cost and all things been equal the job would start on the roads by end of September," he said.
Ambode also assured residents that the State Public Works would seize the period of the break of the rainy season to fix all potholes across the State in order to improve drive time for motorists.
Speaking on the Cleaner Lagos Initiative (CLI) billed to commence next month, Governor Ambode urged the people to be patient with his administration as the plan which is an wholistic and comprehensive waste management policy was currently in its gestation period.
He said once fully operational, waste would be collected in line with international best practices, while all parts of the State would be kept clean always.
The governor, however, urged residents to adopt new attitude to disposing waste and desist from dumping in drainages and canals, assuring that the Government would provide adequate bins to discourage indiscriminate dumping.