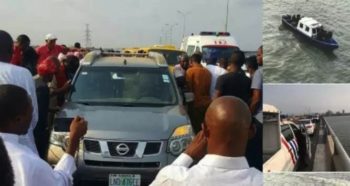 The story of the medical doctor,  Allwell Orji who jumped off the 3rd mainland bridge on Sunday evening has taken a new turn as the mother has said that the alleged recovered body is not her son.
Recall that earlier on Tuesday, the Lagos State Commissioner of Police,  Fatai Owoseni, confirmed that the body of the doctor has been recovered.
He said the body was recovered by the Marine Police at the Onikan end of the lagoon.
However, confirming the claim by the doctor's mother, the spokesperson for the Zone 2 Police Command, SP Dolapo Badmos said, "The mother has come to identify the body recovered, but she said the deceased was not her son."
Recall also that late Dr. Orji's mother had said a day ago that his sun would be recovered alive.
She had expressed optimism during her conversation with sympathisers that her son would return home alive.
According to her, "I am hopeful that my son will be rescued by the emergency officials and not the recovery of his body."
She also stated that his son was not married but that marriage plans were on before the tragedy.
Until his death, Dr. Orji worked at the Mount Sinai Hospital in Surulere area of Lagos State, southwest Nigeria.
He was said to be on his way to Victoria Island for a meeting with the Medical and Dental Association of Nigeria when the incident happened.
Temporary reports from Police authorities revealed that the deceased had asked his driver to stop the vehicle before jumping across the bridge and into the water.
LASEMA said there was a distress call of a man who parked his grey coloured Nissan SUV at about 4:50 pm around Adekunle and jumped into the Lagos lagoon.
The agency said the vehicle and the driver had been taken to Adeniji Adele Police Station for further investigation. Spokesman of the Lagos State Emergency Management Agency (LASEMA),  Kehinde Adebayo, had said the agency was alerted by concerned Nigerians.
Just three days after Dr. Orji case, a similar incident has been recorded as a middle-aged woman reportedly jumped into the lagoon in the Maza-Maza area of the state.
The woman was, however, rescued following the timely intervention of local fishermen and divers in the area.
According to witnesses, the woman had walked casually to the Maza-Maza bridge in the Mile Two area and to the shock of people around, she took a dive into the lagoon but the fishermen dived in after her and rescued her.
The woman, dressed in a blouse and trousers was earlier seen walking aimlessly and when she got to the middle of the bridge, she climbed the rail and jumped.