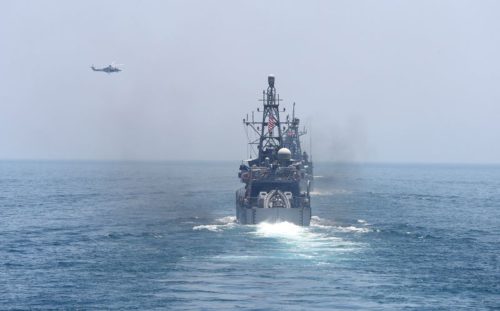 The U.S. Navy is conducting exercises this month to ensure its readiness to guarantee freedom of movement through Persian Gulf and Red Sea waterways amid escalating threats from Iran to disrupt shipping across important choke points.
The exercises, with regional and global allies, are part of the U.S. 5th Fleet Theater Counter Mine and Maritime Security Exercise, Commander Scott A. Stearney told reporters from NAVCENT headquarters in Manama. One exercise is taking place in Djibouti, which sits on one side of the Bab Al Mandab strait, a crucial pinch point for global shipping at the south end of the Red Sea.
The combined exercises "illustrate that the U.S. and our partners stand ready to ensure the freedom of navigation and free flow of commerce wherever international law allows," Stearney said.
Although the exercises aren't in response to Iran's threats, Stearney said U.S. allies need to be well positioned to "address anything that threatens our interest or our ships." He said Iran's activities across the region are "promoting instability" that's "affecting the region significantly" through its backing of Yemen's Houthi rebels.
Iran has threatened to halt exports through the Straits of Hormuz, a vital channel for Middle East oil, if it's barred from shipping its crude through it. The threats started after the U.S. withdrew from a 2015 nuclear agreement and reimposed economic sanctions on Iran that had been eased under the accord. The measures are set to intensify in November by targeting Iran's oil sales — the lifeline of its economy. 
Source: Bloomberg.