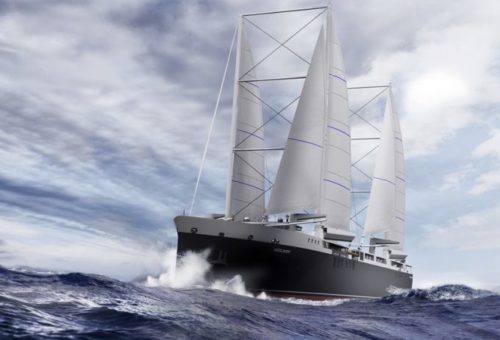 French automaker Renault has unveiled an ambitious plan to construct two wind-powered roll-on/roll-off vessels by as early as 2020.
For the project, Renault has partnered with the French start-up Neoline, which was founded in 2015 with the goal of becoming the world's first shipowner specializing in sailing cargo ships.
According to a press release, Renault and Neoline will first develop a 136-meter vessel and 4,200 square meters of sail area to serve as a model. The end goal, however, is to build two sail-powered ships by 2020-2021 to service a pilot route joining Saint-Nazaire, the U.S. Eastern seaboard and Saint-Pierre & Miquelon off the coast of Newfoundland.
Renault says the project is part its environmental strategy aimed at reducing its carbon footprint by 25% between 2010-2022, with a 6% target for its supply chain compared to 2016 levels.
"Groupe Renault's objective is to reduce the environmental impact of each vehicle throughout its entire life cycle, from parts transportation up to delivery and end-of-life processing," commented Jean-Philippe Hermine, Vice President of Strategic Environmental Planning at Renault Group.
Renault, which has been making cars since 1898, now has a presence in 134 countries and sales of 3.76 million vehicles in 2017. Nearly 60% of the Group's parts and vehicles are transported by sea.
Jean Zanuttini, CEO of Neoline, said, "We are especially pleased that Groupe Renault, a key player in accessible and sustainable mobility for all, is the first partner to join us on board our journey by trusting in Neoline's maritime transport solution. Considering that the traditional sea freight accounts for nearly 3% of CO2 emissions in Europe, Neoline aims to build an innovative French solution to address a global environmental challenge while remaining within an industrial and competitive framework, with the support from its partners."