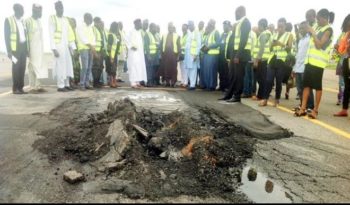 Members of the House of Representatives on Monday expressed worry over the speed of work on the runway of the Nnamdi Azikiwe International Airport, Abuja, as they expressed fears that the rehabilitation exercise might not be completed on schedule.
According to them, only 40 per cent of work on the runway has been completed since the rehabilitation process commenced three weeks ago, and wondered if the remaining portion would be ready in the next three weeks as planned.
The Abuja airport was closed to flight operations on March 8 this year in order to carry out repairs on its runway and taxi ways. The Kaduna International Airport has been serving as a temporary alternative to the NAIA.
The Abuja airport runway rehabilitation is meant to last for six weeks and the target is that by April 19, the runway should have been ready for flight operations.
But after inspecting the project on Monday, members of the House of Representatives Committee on Aviation raised concerns about the pace of work at the facility and stated that they would investigate further to ensure that the April 19 completion date given by the government was not extended.
Their views were, however, opposed by the Federal Airports Authority of Nigeria and the contractor in-charge of the project, Julius Berger, as the two organisations insisted that the work would be completed on schedule.
After inspecting the runway, the Chairman, House Committee on Aviation, Nkeiruka Onyejeocha, told journalists that the lawmakers were not satisfied with what they saw.
She said, "I have my concerns from what I have seen, because the work is divided into three phases, but they are still on the first phase. And from a layman's angle, which I am, I am saying that I have concerns about the work and that it may not be completed on schedule.
"They are insisting that it will be completed, but it doesn't add up from what we are seeing. We are concerned about the mechanical and lighting issues, and we are going to be taking it up from there."
The Resident Engineer of FAAN at the Abuja airport, Yemi Ayelesan, stated that the construction firm had commenced the laying of asphalt on the runway and that workers were on site for 24 hours in order to meet the given deadline.