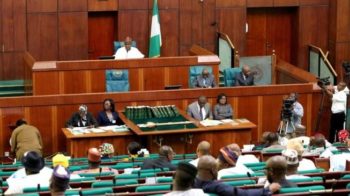 By Omotilewa Quadri 
An ad-hoc committee of the House of Representatives on Wednesday began a probe into the alleged loss of crude oil in Nigeria worth $21 billion.
The House had directed the committee to investigate within a time frame of four weeks debts owed to indigenous companies by International Oil Companies (IOCs). .
Speaking at the inauguration, the chairman of the ad hoc committee, Daniel Reyenieju (Delta-PDP), said the committee would be assiduous in determining the reason for the loss.
"We are expected to investigate the operations of the deep offshore and Inland Basin Production Sharing Contracts Act (PSC) as it concerns the Nigerian National Petroleum Corporation (NNPC) and the International Oil Companies (IOCs) towards determining the reasons for the loss of $21 billion."
He said the committee would also enquire why appropriate steps were not taken over a long period to remedy the situation which led to the alleged loss and possibly recover the revenue.
He added that the second referral was to investigate the debts owed to local companies and indigenous contractors by IOCs and gas companies with a view to ensuring the debts were paid.
The Minister of State for Petroleum Resources, Ibe Kachikwu, is expected to provide the committee with details of financial transactions between the NNPC and IOCs during the period in view.
"We shall review the PSC, the joint operating agreement and other relevant agreements, with the view to regularising all anomalies that might have led to loss of revenue," the committee said.
The ad hoc committee has invited all local companies being owed to furnish it with details of their respective transactions or contracts.
The House of Representatives had in January set up the ad hoc committee to investigate alleged huge debts being owed local companies and indigenous contractors by International Oil and Gas Companies.
It also mandated the committee to ensure that such debts are paid promptly.
This followed a motion by the chairman of the house public accounts committee, Kingsley Chinda.  
Copyright Ships & Ports Ltd. Permission to use quotations from this article is granted subject to appropriate credit given to www.shipsandports.com.ng as the source.