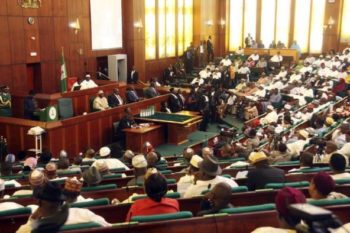 A House of Representatives ad-hoc panel investigating status of the Treasury Single Account (TSA) has summoned the Governor of the Central Bank of Nigeria (CBN), Godwin Emefiele and the Group Managing Director of the Nigeria National Petroleum Corporation (NNPC), Maikanta Baru.
The ad-hoc panel summoned the duo on Wednesday to appear before it over the status of the TSA.
Members of the ad-hoc panel chaired by Rep Abubakar Danburam Nuhu (APC, Kano), were angry that Emefiele and Baru failed to appear before them despite several letters inviting them to make clarifications on the matter.
The lawmakers frowned at the behaviours of the two top government officials, saying they have the constitutional in the country.
The lawmakers rejected all the representatives of the two agencies and resolved to summon them to appear unfailingly on the yet-to-be announced new date for the meeting.
The committee chairman, Danburam, said: "this is the fourth meeting of this committee on this very important matter of TSA, but neither the CBN governor nor the GMD of NNPC deemed it fit to appear in person despite our invitations.
"As a parliament, we won't accept this. The issue of TSA is very important to this administration. We met with other stakeholders and there are a lot of issues raised, which can only be addressed by the CBN governor and the GMD," he said.
In a motion, a member of the committee, Rep Ibrahim Baba (APC, Bauchi) moved that the duo be summoned. The motion was seconded by Rep Johnbull Shekarau (PDP, Plateau), and members of the panel consequently adopted it.