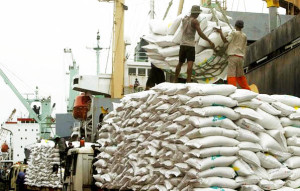 The Chairman of Rice Farmers in Daura, Katsina State, Alhaji Jamilu Ibrahim, has called on the Federal Government not to lift the ban on the importation of rice.
The Federal Government had imposed 110 percent duty on the importation of rice and banned rice import through the land borders to protect local rice farmers and promote local rice consumption in the country.
Ibrahim told newsmen after a meeting of Local Rice Farmers of Daura on Monday that there was the need for the government to maintain its stand on rice importation to boost local production.
The ban on importation will assist the local rice farmers to produce more at affordable prices for local consumption as well as assist the government to conserve foreign exchange.
"In Nigeria, we have fertile land in no fewer than 25 states where rice can be produced in large quantities for local consumption," he said.
He called on the Central Bank of Nigeria (CBN) to set aside more funds that could be used to grant loan to local rice farmers in the country.
"The CBN should continue with the Anchor Borrower Programme that was introduced to assist local rice farmers with loans.
"The programme has assisted farmers in producing rice in large quantities during the 2017 farming season.
"We are now set to go back to our farms for the production of rice during the dry season farming," he said.
Ibrahim urged the rice farmers to use the loan given to them judiciously in order to shore up rice production.
He lauded the Federal and State Governments for giving a deserved attention to the agriculture sector, which, according to him, has the capacity to guarantee food security in the country.