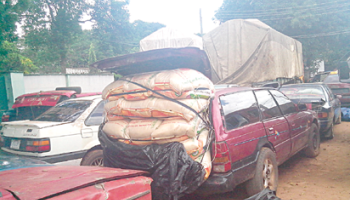 The smuggling of rice through unapproved routes has been on the increase especially as the Sallah holiday approaches.
Controller, Federal Operations Unit Zone 'A' of the Nigeria Customs Service, Comptroller Muhammed Uba who confirmed this while briefing journalists at the Customs warehouse in Ikeja on Wednesday, said the increase is evident in the latest seizure of 15 trailer loads of rice intercepted by the unit within three weeks.
He said, "Last month, between 16th of May, we intercepted nine trailers of smuggled bags of rice. Between that time and now, we have intercepted 15 trailers of smuggled bags of rice.
"You know during the festive period, the concentration on a particular food makes its availability in large quantity compulsory. Because we know these things happen majorly during the festive period, we have also widened our tentacles to ensure such food item is not brought in illegally into the country."
Uba noted that the unit's warehouse which is still overflowing with various seized goods especially rice is largely due to non compliant of traders to trade regulations.
He reiterated that the Federal Government ban on importation of rice and vehicles through the land border is still in force and the unit will not relent in its fight against smuggling.
"We are worried ourselves with the number of seizures in our warehouse and that is why we do take part in trade facilitation. But what we want Nigerians to do is to make sure that they are trade compliant. If they are compliant, there is no way their goods will reach our warehouse. Most of the traders are non- patriotic and it is because of their non patriotism that their goods are here.
"It is not in our interest to continue to seize people's goods and that is why government give incentives to those who are compliant to encourage them.
"In order to ensure full implementation of the Federal Government policy banning importation of rice through the land borders, and following headquarters directive, we re-strategized our operational modalities and beamed our searchlight at the creeks and waterside, including various locations in the South-West zone, hence the reason for the massive seizure recorded within the period under review," he said.
Uba added that the unit also seized various contraband goods and vehicles with a Duty Paid Value of N1.3 billion and recovered N59.5 million from underpayments within the review period.
"The detained/seized items include 15 exotic vehicles including three Toyota C-HR 2018 models, One Toyota Camry LE 2018 model, one Toyota Prado 2018 model, one Toyota Hilux 2017 model, one Ford F150 2017 model, one Pajero jeep 2017 model among others.
"Other seizures are 15 trailers of rice 1,464 cartons of frozen poultry products, 870 jerrycans of vegetable oil, and 592 pieces of used tyres among others.
"Also, four containers with numbers PCIU850134/9, PCIU8278544, FCIU983753 and TGHU6924330 were all seized for false declaration," he said. 
He said a total of 12 suspects have been arrested in connection with the seizures.