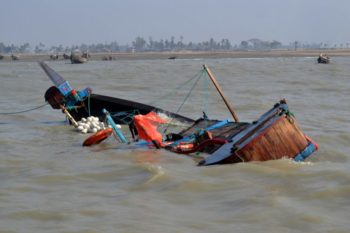 The death toll from the River Niger boat accident that occurred on Friday has increased to nine with 25 people still missing and 26 rescued, officials have said.
The boat was ferrying traders to Warra, Ngaski Local Government Area of Kebbi State, from Malale market in Borgu Local Government Area of Niger State.
The captain of the boat involved in the accident, Dantata Dogonawarra, and Abdulmalik Nuhu, the Chief of Majinga, provided the update on Sunday during a visit by Bala ibn Na'Allah, the Deputy Senate leader.
Na'Allah visited the area of the accident in Warra.
"The boat was transporting about 60 passengers when the unfortunate accident occurred and not 150 passengers and 136 people missing as recently reported," Nuhu said.
"The search for bodies will however continue as we expect dead bodies to surface on the water.
"We just prayed and buried the ninth body recovered today (Sunday) with the senator and other government official who came for on the spot assessment and condolence," the chief of Majinga said.
Dogonawarra, the captain of the boat, and some other survivors confirmed that about 60 passengers were in the boat when the accident occurred.
"We hit a stump that caused the accident. I also lost three of my relations in the accident. I have never experienced any accident in my over 20 years' experience as a boat driver on this water," Dogonawarra said.
Yusuf Umar, one of the survivors, said among those who died are teenage hawkers of groundnut cake.
"We rescued many who could not swim and even now, I am part of the volunteer search team who recovered the ninth body of a male passenger today," he said.
A former governor of Kebbi State, Abubakar Musa, who also received the senator in his house in Warra, said the government needs to provide live jackets and modern passenger boats for such trips.
"Most importantly, the chopping off of those trumps under the water. If that problem is not solved we will continue to have this problem of accidents," he said.
Na'Allah said the problem of travelling on boats on the River Niger will be presented to the Senate as a national issue as soon as the National Assembly resumes from Easter break.
He donated N1 million to the victims of the accident.
"I will also take this complain to President Muhammad Buhari to seek for federal government's urgent intervention to address this frequent boat accidents that always result to loss of lives," he added.
A similar accident near Malale in September 2013 caused the death of 40 people.  
Copyright Ships & Ports Ltd. Permission to use quotations from this article is granted subject to appropriate credit given to www.shipsandports.com.ng as the source.