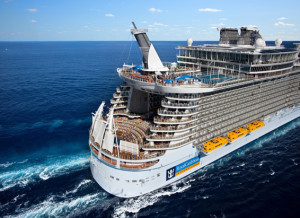 Royal Caribbean Cruises Ltd, the world's second largest cruise line operator, will now go by the new moniker: Royal Caribbean Group.
The company's logo has also been updated with the iconic crown and anchor emblem being sharpened and made more symmetrical. The crown will officially now reside inside a circle at all times.
"The name is simpler, fresher and more modern. It's also more descriptive —Royal Caribbean Group sounds like a parent company name, reflective of our growth and evolution since we last updated our identity more than 20 years ago," said Royal Caribbean Group Chairman/CEO, Richard Fain.
Royal Caribbean Group's flagship cruise line brands still include Royal Caribbean International, Celebrity Cruises, Silversea, Azamara, TUI Cruises and Hapag-Lloyd Cruises. Together, the brands operate 63 ships with an additional 16 on order as of July 10, 2020.
The new branding comes as the Royal Caribbean Group has suspended all sailings through September due to the COVID-19 pandemic. The voluntary suspension is in line with the U.S. CDC required suspension for cruise lines operating out of the United States.