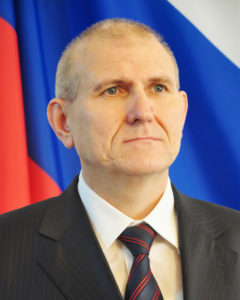 Russia has pledged to strengthen its relations with Nigeria through the purchase of agricultural product. The Russian Ambassador Nikol,ay Udovichenko to Nigeria said this in an interview with journalists in Abuja on Wednesday.
He said that the Russian government through the embassy would bring finished agricultural products and machinery to promote the agricultural sector in Nigeria.
According to him, the production of agricultural machinery is increasing in Russian and the exports are higher than the arms exports.
"The Russian government is delighted and ready to export Nigerian agricultural products, especially, mangoes, pineapples, banana, pawpaw and cocoa beans.
"We are ready to bring finished products and machines to promote the Agriculture sector in the country.
"We will also strengthen our bilateral trade and investment cooperation, including increasing supplies of Russian agricultural production to Nigeria and ECOWAS region,'' he said.
He explained that agricultural products like shrimps, crayfish has already markets in Russia.
The envoy said that his government would not only concentrate on agriculture but, also on science and technology.
He said the 4th session of the Intergovernmental Russian-Nigerian Joint Commission on economic, scientific and technical cooperation, recently held in Abuja,discussed areas of bilateral cooperation, including agriculture, industry, power sector, military-technical cooperation, mining and solid minerals.
Udovichenko said the Russian company that built the Ajaokuta Steel Company for the Nigerian government are willing to come and revive the steel company, adding that the renovation of the company will guarantee job creation.