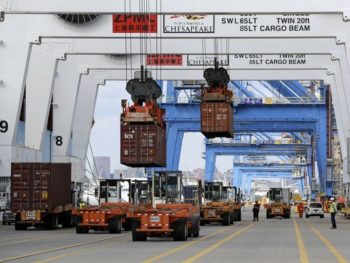 South Sudan has said the new Trade Policy Framework (TPF), a UN-supported multi-donor global partnership for developing countries, will help improve its trade competitiveness within the region and spur economic development.
The Undersecretary in the Ministry of Trade, Industry and East African Community (EAC) Affairs, Mou Mou Athian, on Thursday expressed hope that the trade policy will help boost South Sudan's trade within the EAC and international market.
"Today we are making a step forward by adopting the trade policy framework which is essential for South Sudan given the fact we are landlocked country. It will help us diversify our economy to produce for both domestic and regional market," Athian told journalists in Juba.
He disclosed that the EAC membership including observer status at the World Trade Organization (WTO) will ensure South Sudan implements crucial trade reforms.
"We recently obtained observer status at WTO. This opens the door for South Sudan to trade with the world and gives us a chance to build our capacity," he disclosed, adding that the TPF will improve lost confidence in the now battered economy due to more than four years conflict.
The TPF was supported by the UN Development Program (UNDP) and Enhanced Integrated Framework (EIF), a multi-donor global partnership for developing countries.
UNDP Country Director, Kamil Kamaludeen, said the TPF will help improve trade in the financial management, revenue and livelihood sector in one of Africa's highly oil-dependent economies.
In 2016, South Sudan became a full member of the EAC, and in 2017 obtained the observer status with the WTO.
The integration process to EAC advanced further in late 2017, with the adoption of the Integration Roadmap to the EAC and formulation of the list of priority projects for the period 2017-2020.
The TPF recognizes the fragility of South Sudan economy and institutions and provides recommendations to gradually improve trade infrastructure and environment to help the country benefit more from the EAC membership.
Agency Report