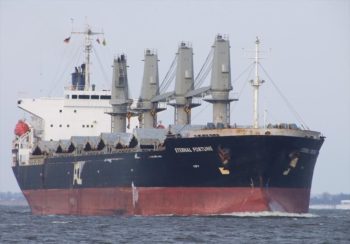 A salvage operation is underway to retrieve an abandoned bulk carrier from the Atlantic Ocean off the coast of South Africa following a fire in its engine room on Sunday.
The South African Maritime Authority confirmed Tuesday that all 19 crew members have been evacuated from the ship and are currently in Cape Town.
SAMSA was alerted to the incident on Sunday after the Liberian-flagged MV Antaios issued a distress call reporting a fire and flooding in its engine while the vessel underway some 860 nautical miles west of Cape Town. The call was picked up by the Japanese ore carrier Nsu Inspire, which was diverted to the scene and picked up the 19 crew members who abandoned ship in life rafts.
"The 170 meter ANTAIOS had reportedly experienced a fire in the engine room while sailing from Argentina en route to Saudi Arabia loaded with grain. The fire caused some damage which led to flooding in the engine room. When the flooding became uncontrollable, the captain decided to make a distress call and order the crew to abandon ship," SAMSA said in a statement.
"The mayday call was picked by the NSU INSPIRE which was sailing from Brazil to Singapore and China. The captain of the NSU INSPIRE immediately informed the SAMSA CSWR and proceeded to the rescue," SAMSA said.
"Happily, by 20h39 MRCC was informed by the captain of the NSU INSPIRE that his ship had arrived on-scene and had commenced recovering the ANTAIOS crew from the two lifeboats they had escaped to. All 19 crew members were plucked to safety on board the giant 330 meter ore carrier and are currently on the way to be dropped off in Cape Town from where they will be repatriated," SAMSA said.
As of Tuesday's update the crew of a salvage tug from Smit already had the stricken bulk carrier under tow.
"As at 12pm today, the (Antaios) crew are safe at a hotel waiting on the arranged flights to be finalized and all should have departed by Sunday. (The Antaios) is currently under tow by the salvage tug Smit Amandla, and at the time of the last position update, it was approximately 780 nautical miles from Cape Town," SAMSA said.
Copyright Ships & Ports Ltd. Permission to use quotations from this article is granted subject to appropriate credit given to www.shipsandports.com.ng as the source.