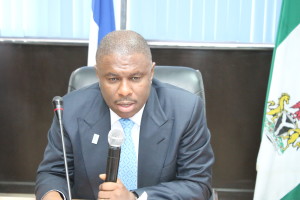 Operators in the Nigerian cabotage trade have cried out over alleged incessant harassment by officials of the Nigerian Maritime Administration and Safety Agency (NIMASA), who accost them on the channels asking for Sea Protection Levy (SPL) and other charges even after such payments have been made at the agency's headquarters in Lagos.
General Secretary of the Shipping Trade Group (STG) in Warri, Obioma Ochulor, who spoke for the operators said despite his promise four months ago to find solution the many problems regarding payments of operational charges and nomination of vessel condition surveyors, the Director-General of NIMASA, Dr. Dakuku Peterside has yet to effect any positive changes.
He said there was need to reduce delay and increased cost in obtaining vessel clearance, which requires that the operators must always visit NIMASA headquarters in Lagos.
Ochulor complained that most times, shipping operators would have to travel to Lagos several times, spending money on transportation and accommodation and losing several manhours just to make payments for vessel documents.
According to the STG secretary, sometimes, vessels are accosted on their way by NIMASA officials who demand for SPL even when the ship captains were yet to meet with their agents.
"All the issues raised by operators which were the problems before he came are still the way he left them; nothing has changed. Recall that he promised that in two weeks' time we are going to see visible changes, but there is none so far. We are still experiencing those bottlenecks that were highlighted that day," Ochulor told SHIPS & PORTS DAILY in a chat yesterday.
Speaking further, he said, "The billing system of NIMASA has not been centralized. If we raise bill and make payment in Lagos, we cannot raise debit notes in any of the zones; everything is done in Lagos and when you raise those bills you have to produce evidence even to NIMASA officials here.
"There is no coordination. For instance if you make payment to NIMASA, you expect that NIMASA anywhere will be able to access those payments in any of its offices, but that is not to be. You will still be the one to show your evidence of payment.
"We also talked about vessel condition surveyors. A situation where you have a qualified surveyor for a place like Warri but because of their interest, they want to nominate somebody that is not in Warri. They nominate surveyors in Lagos while the one in Warri is not nominated and they are all certified by the same NIMASA.
"The implication is that it increases cost for those operating in Warri. For instance, when you have them nominated to survey your vessel—to determine the state of seaworthiness of the vessel—the surveyor nominated will approach the shipping company or agent to say, I am nominated for your vessel and I am bound to stay for this long.
"He gives you a personal bill on his hotel, feeding and logistics and at the end of the day he may end up not coming. After paying this money, he will now use a surveyor that is in Warri. You have paid for his logistics, but he will send a surveyor in Warri."
Recall that Petersde in October 2016 had a meeting with the operators in Warri and other zones where he assured that the zones would soon attain operational independence, with ability to collect payments and issue debit notes.
He maintained that an automation process which the agency had embarked upon would in the next few months make it possible for operators to make payments online from the convenience of their offices and obtain documents from online or zonal offices without having to travel to the Apapa, Lagos headquarters of the agency.
"We are getting the zones to become centres of operation of NIMASA activities. In the days ahead we will be giving you greater responsibilities. NIMASA must take its rightful place in the Federal Government's plan to make maritime become creator of jobs and main earner of income for government," he noted.
NIMASA spokesman, Isichei Osamgbi could not be reached for reaction to the allegation levelled against the agency by the group as calls placed to his GSM telephone line did not go through. He also had not responded to a text message sent his phone as at press time.
Copyright 2016 Ships & Ports Ltd. Permission to use quotations from this article is granted subject to appropriate credit given to www.shipsandports.com.ng as the source.